"A LIVING, BREATHING WORLD-HERITAGE SITE FOR MUSIC"
– NPR MUSIC
"They treat all music with the same passionate fervour and deep respect that other string ensembles would usually reserve for classical music. And that really is all music. It doesn't matter if they're sitting down to play Hildegard von Bingen or Harry Partch, Geeshie Wiley or Alim Qasimov, Konono Nº1 or DJ Spooky; Kronos' music spans a thousand years and six continents… One of the most important factors about the Kronos Quartet is that they are many more than four. Their extended family numbers in the hundreds. Collaboration has opened up soundscapes that would otherwise be inaccessible for a humble string quartet." – Jim Hickson for WOMEX 18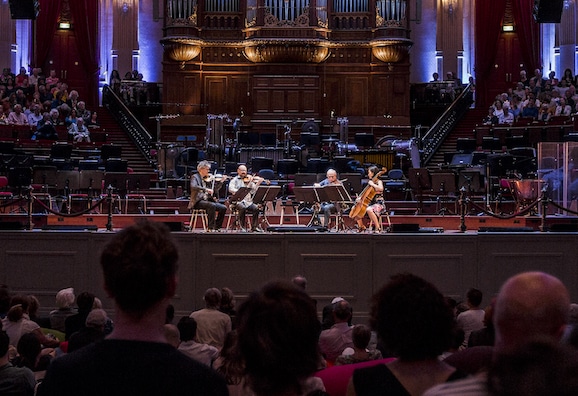 The quartet is David Harrington (violin), John Sherba (violin), Hank Dutt (viola), and Sunny Yang (cello).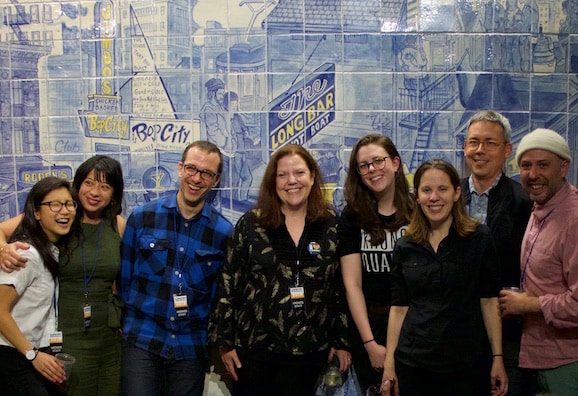 Based in San Francisco, KPAA is a not-for-profit organization and manages all aspects of Kronos' work.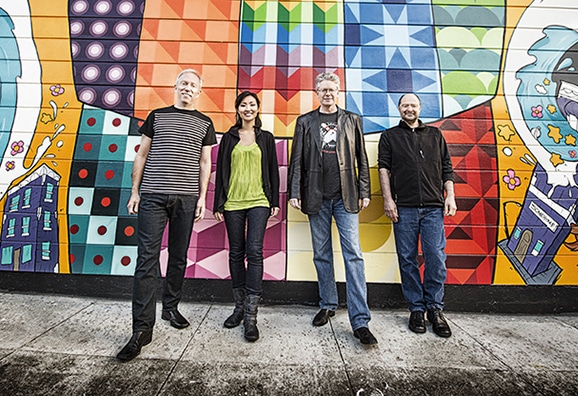 Kronos is grateful for the generous support of individuals, foundations, government agencies, and others.

"THE KRONOS LIFE JOURNEY: A RELENTLESS ENDEAVOR TO OPEN UP THE WORLD'S MUSIC FOR EVERYONE" – SILICON VALLEY METRO
For over 45 years, San Francisco's Kronos Quartet has continually reimagined the string quartet experience, performing thousands of concerts worldwide, releasing more than 60 recordings, collaborating with many of the world's most accomplished composers and performers, and commissioning more than 1,000 works and arrangements for string quartet. Kronos has received over 40 awards, including two Grammys and both the Polar Music and Avery Fisher Prizes, two of the most prestigious awards given to musicians.
In addition to its role as a performing and recording ensemble, Kronos is committed to mentoring emerging performers and composers and has led workshops, master classes, and other education programs with Carnegie Hall's Weill Music Institute, Kaufman Music Center's Face the Music, Ruth Asawa San Francisco School of the Arts, San Francisco Conservatory of Music, and through the Embassy Adoption Program (a program of Washington Performing Arts and District of Columbia Public Schools), among other institutions in the U.S. and overseas. Kronos has recently undertaken extended educational residencies at UC Berkeley's Cal Performances, Holland Festival, Texas Performing Arts Association at the University of Texas at Austin, New York University Abu Dhabi, and Mount Royal University Conservatory.
With a staff of 11, the not-for-profit Kronos Performing Arts Association (KPAA) manages all aspects of Kronos' work, including commissioning, concert tours and local performances, education programs, and an annual self-produced Kronos Festival in San Francisco. In 2015, Kronos launched 50 for the Future: The Kronos Learning Repertoire, an education and legacy project that is commissioning—and distributing online for free—50 new works for string quartet designed expressly for the training of students and emerging professionals and composed by 25 women and 25 men from around the world.

Kronos exists to create, perform, and promote music from a global perspective that responds to the world we share and expands the understanding of music's role as a powerful force in society. The cornerstone of Kronos' mission is the unique, live performance voice of the string quartet — the coming together in conversation of distinct but integrated voices. It is from this artistic foundation that Kronos explores, extends, and enhances the musical experience for artists, audiences, and global communities. Kronos achieves its mission as a not-for-profit organization through a wide variety of programmatic initiatives including commissioning, performing, presenting, recording, publishing, archiving, teaching, mentoring, and encouraging the next generations of artists and audiences.