Kronos Performing Arts Association is proud to announce KRONOS Five Decades, a year-long celebration of Kronos Quartet's 50th anniversary, July 2023 – June 2024. KRONOS Five Decades programming will encompass every aspect of the organization's mission, including performance, commissioning, recording, education, and documentation. This ambitious undertaking reflects the breadth of the group's accomplishments and the depth of its legacy.
Kronos Quartet was founded in Seattle, Washington in 1973 by Artistic Director David Harrington (violin). In 1977, Kronos relocated to San Francisco, its current home, and violist Hank Dutt joined the group. Violinist John Sherba joined in 1978, and cellist Paul Wiancko joined in 2023.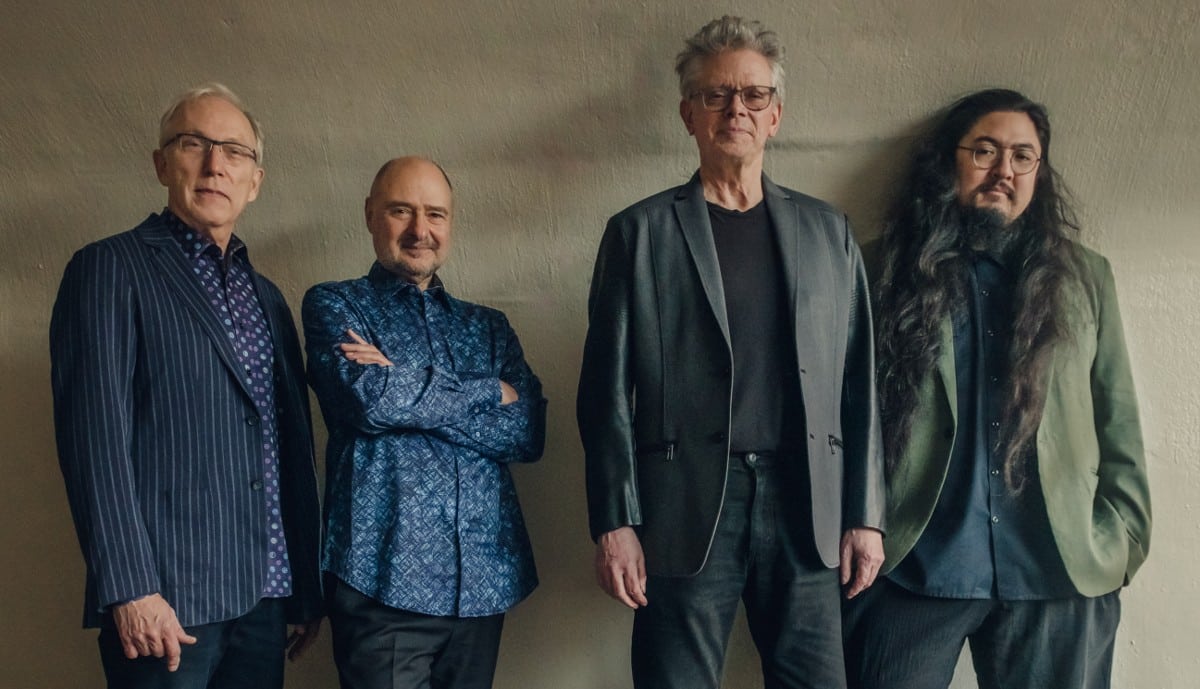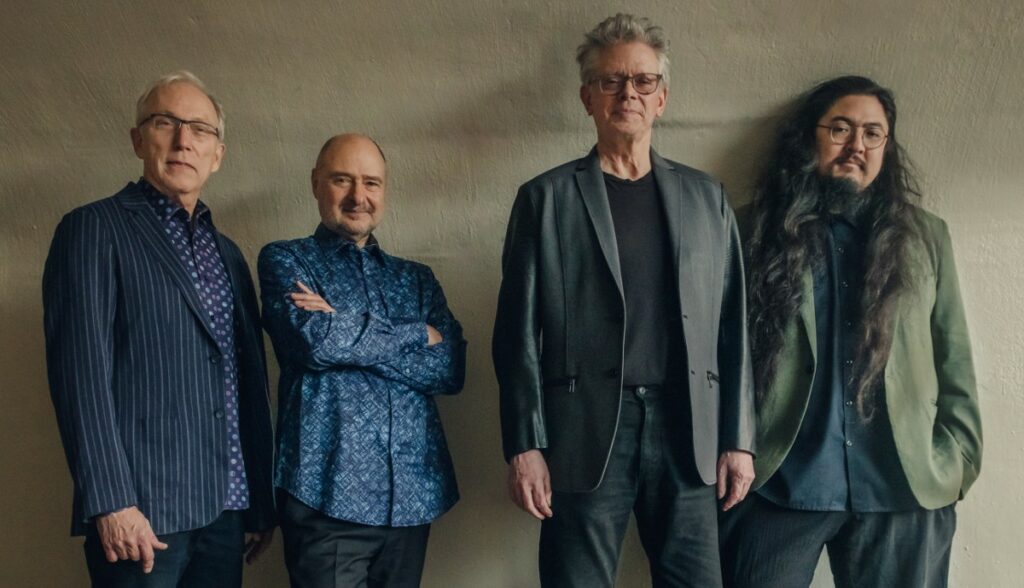 Shortly after its founding, Kronos established the nonprofit Kronos Performing Arts Association, which manages the Quartet and furthers the group's musical and educational mission. In the course of its five decades, Kronos has:
Transformed its medium by bursting through stylistic and geographical boundaries

Created a vibrant new repertoire with more than 1,000 commissions to date

Sold more than 4 million recordings of its 70+ albums, more than any other string quartet in history

Earned three Grammy Awards and twelve Grammy Nominations

Changed the way chamber music is presented by incorporating sound, lighting design, and other theatrical elements

Recorded with artists from around the globe, including Asha Bhosle, Ron Carter, Allen Ginsberg, Zakir Hussain, Angélique Kidjo, Astor Piazzolla, Alim and Fargana Qasimov, Homayoun Sakhi Trio, Aki Takahashi, Tanya Tagaq, Taraf de Haïdouks, Trio da Kali, Dawn Upshaw, Mahsa Vahdat, Tom Waits, and Wu Man

Earned 40+ honors and awards, becoming the only ensemble to win both the Avery Fisher Prize and the Polar Music Prize, plus Musical America's Musicians of the Year

Established

Kronos Fifty for the Future

, an unprecedented initiative to commission 50 new works and distribute materials—including scores, recordings, and coaching materials—online for free

Nurtured generations of musicians through mentoring and educational programs

Kronos will appear in 50 public events around the globe, including a starry celebration at Carnegie Hall's Stern Auditorium (November 3), in which the group will be joined by Laurie Anderson, Bang on a Can All-Stars, Jake Blount, Tanya Tagaq, Wu Man, Attacca Quartet, Sō Percussion, and others. This special concert includes a new short film by award-winning documentarian Sam Green; the New York premieres of Carnegie Hall co-commissioned works by Michael Gordon and Gabriella Smith; and an extraordinary new "Sunrise Jam" version of Terry Riley's Sunrise of the Planetary Dream Collector for 50 musicians.
Other performance highlights include a free concert at San Francisco's Golden Gate Park (August 26); and a residency in Paris that features performances—by Kronos and an array of other ensembles—of all 50 Kronos Fifty for the Future works (January 12-13). 
Tour appearances include dates in Amsterdam, Antwerp, Bristol, Budapest, Dublin, Halifax, Hamburg, Hanover, Istanbul, Katowice, Luxembourg, Lyon, Monterrey (Mexico), Toronto, Vienna, and Zürich, plus more than 30 American cities.

"Kronos has needed every minute of these last fifty years to take our music to where it is today. We are grateful for this time and for the many dedicated hands and inspiring imaginations who have joined us. I feel that our music is a huge set of variations reflecting as much of the world as we have learned about so far. With every new note, every new piece, every concert, the community of music lovers energizes, buoys, challenges, and propels us. We look forward to the future."
—David Harrington, Founder & Artistic Director, Kronos Quartet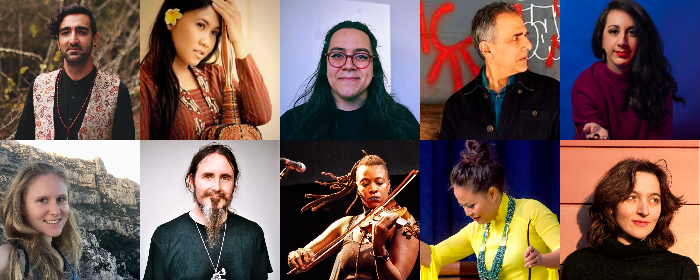 During the season, Kronos will unveil ten anniversary commissions from a characteristically diverse and exciting group of composers. All ten pieces will be premiered on various programs throughout the season. 
Three of the commissions address the issue of climate change. Sahba Aminikia's Chahar Fasl (Four Seasons) examines the transformation of Iran's Lake Urmia, one of the largest salt lakes in the world, with a nod to Vivaldi's Four Seasons. Peni Candra Rini's Segara Gunung (Ocean-Mountain) responds to her native Indonesia's vulnerability to volcanic and seismic activity, as well as rising ocean levels. Gabriella Smith's work calls on listeners to make climate action a joyful and integral part of their lives.
Several works are inspired by the composers' own cultural traditions. inti figgis-vizueta's piece draws on her dedicated research into Pre-Columbian Andean traditions, including the Andean whistling jar. Mazz Swift's suite is built on American slave songs and spirituals, with improvisational elements. For Vân-Ánh Võ's piece, she is working with an instrument builder in her native Vietnam to develop a communal instrument, sustainably constructed from coconut trees, for Kronos to perform. 
Others are taking the occasion to investigate and celebrate the medium itself. Michael Gordon's gfedcba comprises several short movements and interludes inspired by the scherzos of Haydn, father of the string quartet. Mary Kouyoumdjian's piece explores both the personal and the universal in a celebration of life and family. Trey Spruance's Digenes Akritas will incorporate pre-recorded and manipulated Kronos sounds in an examination of otherness. And Aleksandra Vrebalov's Gold Came from Space provides each member of Kronos with their own solo or cadenza, in a nod to the musicians who have made it the singular, visionary group it has become.

Five releases are scheduled for the KRONOS Five Decades season. New recordings include Michael Gordon's Campaign Songs (Cantaloupe, July 21); Songs and Symphoniques: The Music of Moondog (Cantaloupe, September 29); and Red Hot + Ra, featuring the music of Sun Ra (Red Hot, Spring 2024). Nonesuch will reissue two essential catalog items: Kronos Quartet Performs Philip Glass, available for the first time on vinyl (November 3), and George Crumb's Black Angels, a vinyl reissue (February 16).
Gordon's Campaign Songs, to be released on 7-inch vinyl, is a set of eight short pieces premiered online between October and November 2020 with the intention of galvanizing voter turnout in the 2020 election. These include Gordon's arrangements of This Land is Your Land, God Bless America, When Johnny Comes Marching Home, America the Beautiful, and The Star-Spangled Banner. 
Songs and Symphoniques: The Music of Moondog presents Kronos in collaboration with Ghost Train Orchestra, and features brilliant new reimaginings of the music of Louis Hardin (aka Moondog), the blind composer who lived on the streets of Manhattan during the mid-20th century, dressed in striking Viking attire while selling his records and reciting poetry. His beautiful and haunting madrigals, songs, and "symphoniques" inspired many musicians, including Steve Reich, who called Moondog "the godfather of minimalism." 
Red Hot + Ra, part of the acclaimed Red Hot series, will pay tribute to the visionary composer Sun Ra with a selection of pieces and new remixes curated by Kronos. Set to be released on vinyl and streaming platforms in the Spring of 2024, this Kronos album will be one of several volumes in the Red Hot + Ra series, which aims to raise awareness about climate justice following the words and spirit of Sun Ra.
The two Nonesuch albums spotlight works that are crucial to the group's history: George Crumb's Black Angels, which inspired David Harrington to form Kronos; and the iconic quartets of Philip Glass, which have figured prominently in Kronos' repertoire since the 1980s.
As a special anniversary bonus, Kronos will release five playlists from the group's recordings on the Nonesuch label, curated by David Harrington. Each will represent a different decade of the quartet's history, from the 70s through the present. New installments will be released monthly from September 2023 through January 2024.

With each passing decade, education has become a more vital part of Kronos' mission and legacy. The extraordinary success of Kronos Fifty for the Future – with more than 33,000 downloads to date, from 107 countries/territories – is complemented by the group's commitment to in-person and virtual mentoring, which serves a major role in the coming season.
During the 2023/24 season, Kronos Quartet will be the Ensemble-in-Residence for Luna Composition Lab, the program founded by composers Missy Mazzoli and Ellen Reid to mentor young female, nonbinary, and gender-nonconforming composers ages 13–18. The six Fellows chosen for the program will have their pieces workshopped and performed by Kronos – a singular opportunity for these teen composers.
Kronos Fifty for the Future will be the focus of a residency at the Philharmonie in Paris in January 2024. In addition to performing two concerts in the opening weekend of the String Quartet Biennial, Kronos will coach young ensembles in Kronos Fifty for the Future repertoire, and all 50 works will be performed in a special marathon event. 
As part of its KRONOS MUSIC: The Future is Now program, the quartet will coach young musicians from the San Francisco Bay Area and beyond in Kronos Fifty for the Future repertoire. Students will prepare virtual performances to be hosted on Kronos' YouTube channel. Kronos will also work with student musicians in Bogotá, Lyon, Cincinnati, Los Angeles, Stanford, and more in several educational and community events across the season. 
Looking toward the future, the Kronos Performing Arts Association has launched the Kronos Oral History Pilot Project to capture 50 interviews with important figures, such as composers with whom the group has collaborated and the current and former members of the Kronos Quartet. This project, made possible by generous support from the Mellon Foundation, will become a centerpiece of the Kronos Archive and increase public access to important historical resources.
Watch this space for news on the future home of the Kronos Archive, to be announced later this season.

Says Janet Cowperthwaite, Executive Director of the Kronos Performing Arts Association, "We are thrilled to launch the KRONOS Five Decades season, which marks the 50th anniversary of the Kronos Quartet. We have planned an exciting year-long celebration of performances, commissions, recordings, educational projects, and other activities, all of which amplify and respond to the organization's mission. In a few months we will announce the partner institution for the Kronos Archive, which will feature the new Kronos Oral History Project as a vital component. We look forward to the coming year, and are grateful for the support of all of those who have been or will be part of our circle as we reach this milestone."

Kronos Five Decades: 50 official events
7 additional events to be announced at a later date.
KRONOS Five Decades Funders
The Andrew W. Mellon Foundation, The National Endowment for the Arts, and New Music USA's Organization Fund; Andrea A. Lunsford, Kenneth Foster, Kirsten & Gilad Wolff, The Friends of Kronos at The Sea Ranch, and members of the Kronos Performing Arts Association Board of Directors; Lead Presenter Partners Cal Performances/University of California Berkeley, Carnegie Hall, Krannert Center for the Performing Arts/University of Illinois at Urbana-Champaign, Portland Friends of Chamber Music, and Stanford Live; and Presenter Partners Arizona Arts Live/University of Arizona, Center for the Art of Performance at UCLA, Green Music Center at Sonoma State University, The Royal Conservatory of Music, and Washington Performing Arts.
current as of July 2023