Kronos Quartet/Kronos Performing Arts Association is a non-profit organization based in San Francisco.
Kronos exists to create, perform, and promote music from a global perspective that responds to the world we share and expands the understanding of music's role as a powerful force in society.
The cornerstone of Kronos' mission is the unique, live performance voice of the string quartet — the coming together in conversation of distinct but integrated voices. It is from this artistic foundation that Kronos explores, extends, and enhances the musical experience for artists, audiences, and global communities. Kronos achieves its mission as a non-profit organization through a wide variety of programmatic initiatives including commissioning, performing, presenting, recording, publishing, archiving, teaching, mentoring, and encouraging the next generations of artists and audiences.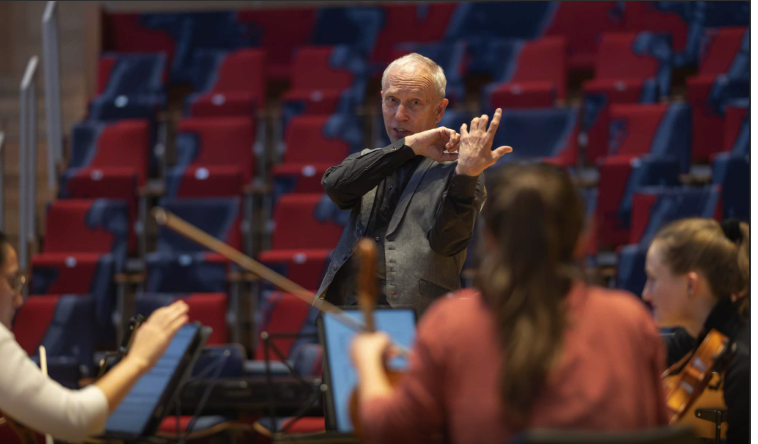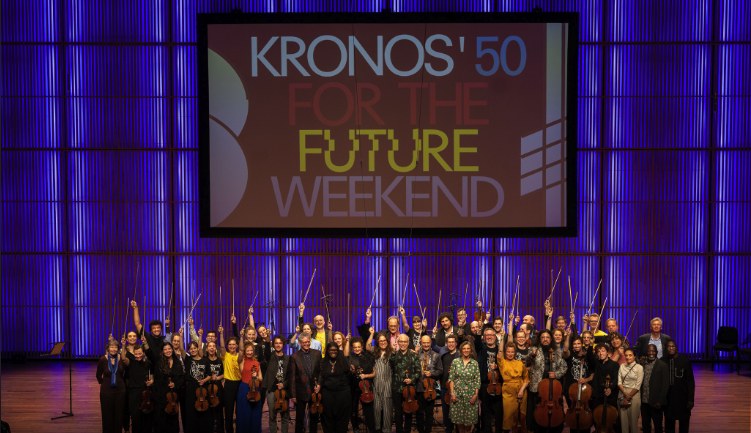 Kronos Performing Arts Association (KPAA) manages all aspects of Kronos' work, including commissioning, concert tours and local performances, education programs, and the self-produced Kronos Festival in San Francisco. Based in San Francisco, KPAA is a 501(c)3 non-profit organization with a staff of 8. Kronos is funded by the generous support of individuals, foundations, government agencies, and others, including the National Endowment for the Arts, San Francisco Grants for the Arts, Telluray Foundation, and many others.
In 2015, KPAA launched Kronos 50 for the Future, an education and legacy project that is commissioning—and distributing online for free—50 new works for string quartet designed expressly for the training of students and emerging professionals, written by composers from around the world. Scores and parts, recordings, and other materials are available here. Lead partner Carnegie Hall and an adventurous group that includes presenters, academic institutions, foundations, and individuals have joined forces with KPAA to support this program.
STAFF
Janet Cowperthwaite
Executive Director, Kronos Performing Arts Association
Manager, Kronos Quartet
Mason Dille, Development Director
Dana Dizon, Business Manager
Sarah Donahue, Operations Director
Deja Jenkins, Production and Marketing Associate
Reshena Liao, Creative Producer
Nikolás Ixyar McConnie-Saad, Artistic Administrator

ASSOCIATES
Matthew Campbell, Marketing and Development Consultant
Scott Fraser, Senior Sound Designer
Nick Kanozik, 50 for the Future Education Coordinator
Delphine Lai, Grant Writer
Brian Mohr, Sound Designer and Technical Manager
Kären Nagy, Strategic Initiatives Consultant
Kathy Paxson, Accountant
Brian Scott, Lighting Designer

Kenneth Foster, Co-Chair
Kirsten Wolff, Co-Chair
Sumiko Ito Allison
Wallace Chappell
Janet Cowperthwaite
Hank Dutt
Jeanne Giordano
David Harrington
Edward King
Andrea A. Lunsford, Immediate Past Chair
Donlyn Lyndon
Drew McCalley
Greg G. Minshall
Evan Neff
Vasudevan Panicker
John Sherba
Curtis Smith
Priscilla Stoyanof
Paul Wiancko
Alice Wingwall

The Kronos Hall of Fame recognizes and honors the extraordinary and distinguished contributions, service, and support given by its members to Kronos Quartet and the Kronos Performing Arts Association.
Ken Benshoof
Judithe Bizot (deceased)
Peggy Dorfman (deceased)
Lucy Durán
Scott Fraser
Jacob Garchik
Bob Gordon
Orrin Keepnews (deceased)
Andrea A. Lunsford
Donlyn Lyndon
Jim Melchert (deceased)
Kären Nagy
Larry Neff (deceased)
Anna Ranieri
Lory Ratner
Terry Riley
Judith Sherman
Alice Wingwall
Wu Man
Carol Yaple