"THE KRONOS QUARTET HAS BROKEN THE BOUNDARIES OF WHAT STRING QUARTETS DO."
– THE NEW YORK TIMES
For over 45 years, San Francisco's Kronos Quartet – David Harrington (violin), John Sherba (violin), Hank Dutt (viola), and Sunny Yang (cello) – has pursued a singular artistic vision, combining a spirit of fearless exploration with a commitment to continually reimagine the string quartet experience. In the process, Kronos has become one of the most celebrated and influential groups of our time, performing thousands of concerts worldwide, releasing more than 60 recordings of extraordinary breadth and creativity, collaborating with many of the world's most accomplished composers and performers, and commissioning more than 1,000 works and arrangements for string quartet.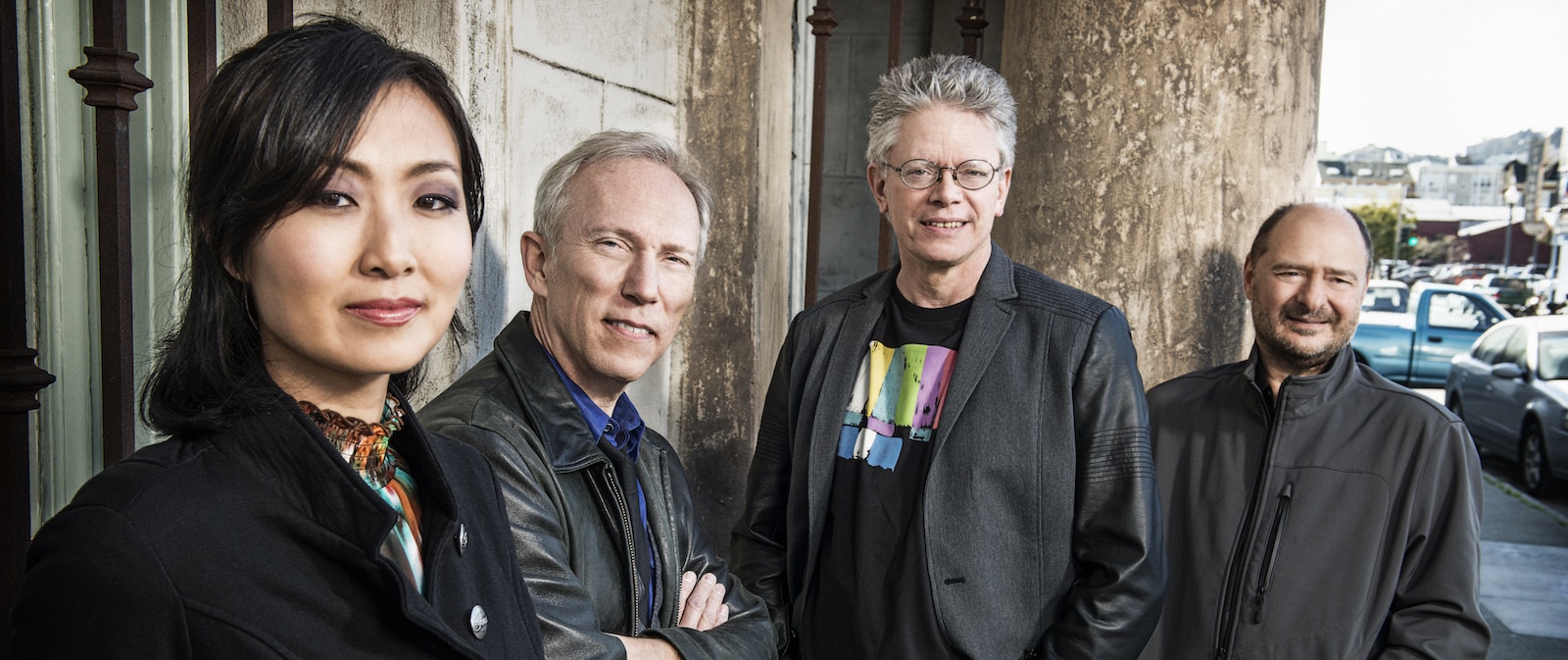 Kronos' adventurous approach dates back to the ensemble's origins. In 1973, David Harrington was inspired to form Kronos after hearing George Crumb's Black Angels, a highly unorthodox, Vietnam War–inspired work featuring bowed water glasses, spoken word passages, and electronic effects. Kronos then began building a compellingly eclectic repertoire for string quartet, performing and recording works by 20th-century masters (Bartók, Webern, Schnittke), contemporary composers (Sahba Aminikia, Nicole Lizée, Vladimir Martynov, Aleksandra Vrebalov), jazz legends (Charles Mingus, Maria Schneider, Thelonious Monk), rock artists (Jimi Hendrix, The Who's Pete Townshend, Sigur Rós), and artists who truly defy genre (multi-disciplinary artists Laurie Anderson and Trevor Paglen, spoken-word poets from Youth Speaks).
Integral to Kronos' work is a series of long-running, in-depth collaborations with many of the world's foremost composers. One of the quartet's most frequent composer-collaborators is "Father of Minimalism" Terry Riley, whose work with Kronos includes Salome Dances for Peace (1985–86); Sun Rings (2002), a NASA-commissioned multimedia ode to the earth and its people that features celestial sounds and images from space; and The Serquent Risadome, premiered during Kronos' 40th Anniversary Celebration at Carnegie Hall in 2014. In 2015, Kronos' longtime label Nonesuch Records released One Earth, One People, One Love: Kronos Plays Terry Riley, a five-disc, four-album box set dedicated to Riley that included the new release Sunrise of the Planetary Dream Collector: Music of Terry Riley. Kronos commissioned and recorded the three string quartets of Polish composer Henryk Górecki, with whom the group worked for more than 25 years. The quartet has also collaborated extensively with composers such as Philip Glass, recording an album of his string quartets in 1995 and premiering String Quartets No. 6 in 2013 and No. 7 in 2014; Azerbaijan's Franghiz Ali-Zadeh, whose works are featured on the full-length 2005 release Mugam Sayagi; Steve Reich, of whose work Kronos has recorded the Grammy-winning composition Different Trains (1989), Triple Quartet (2001), and WTC 9/11 (2011); among many other composers and arrangers.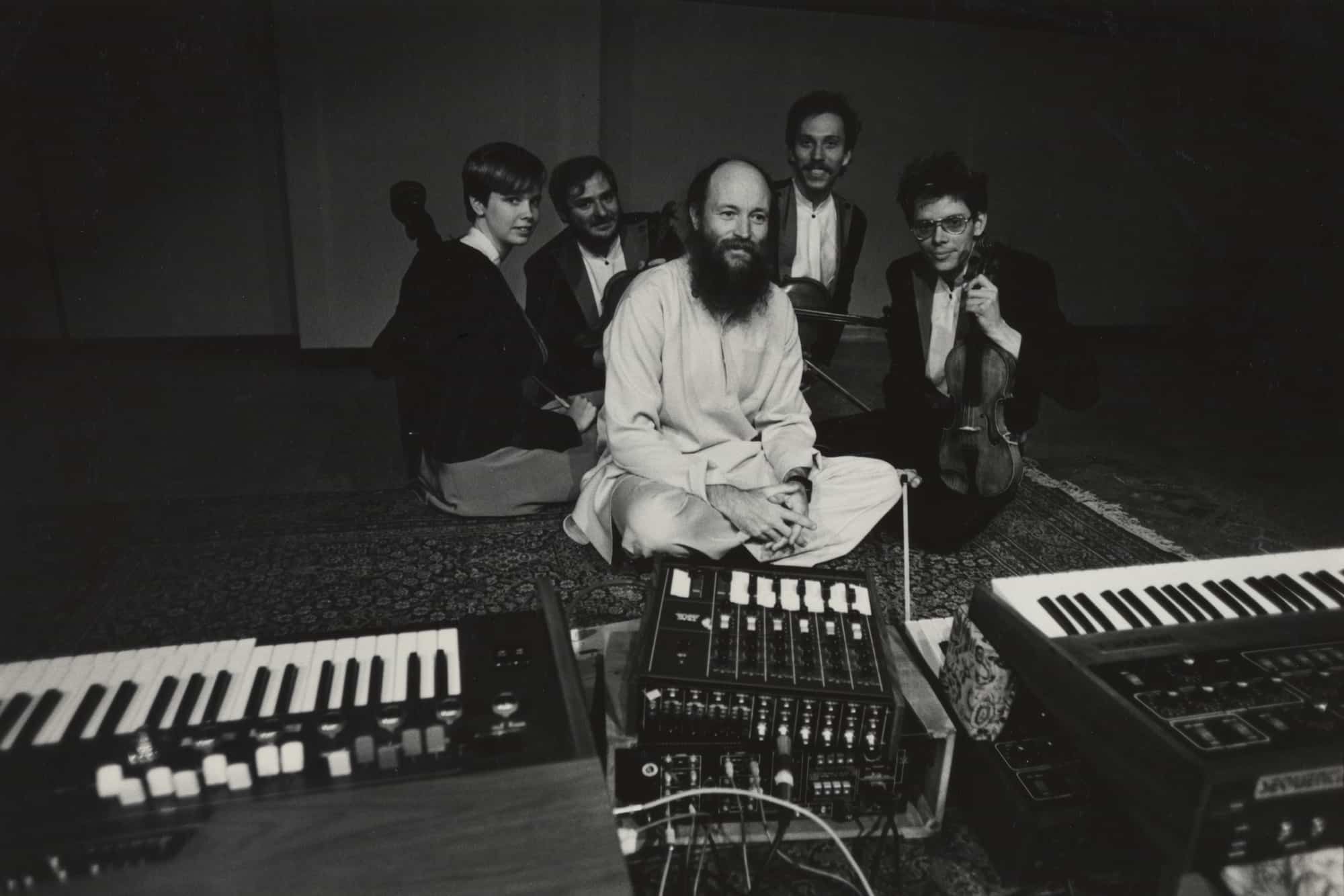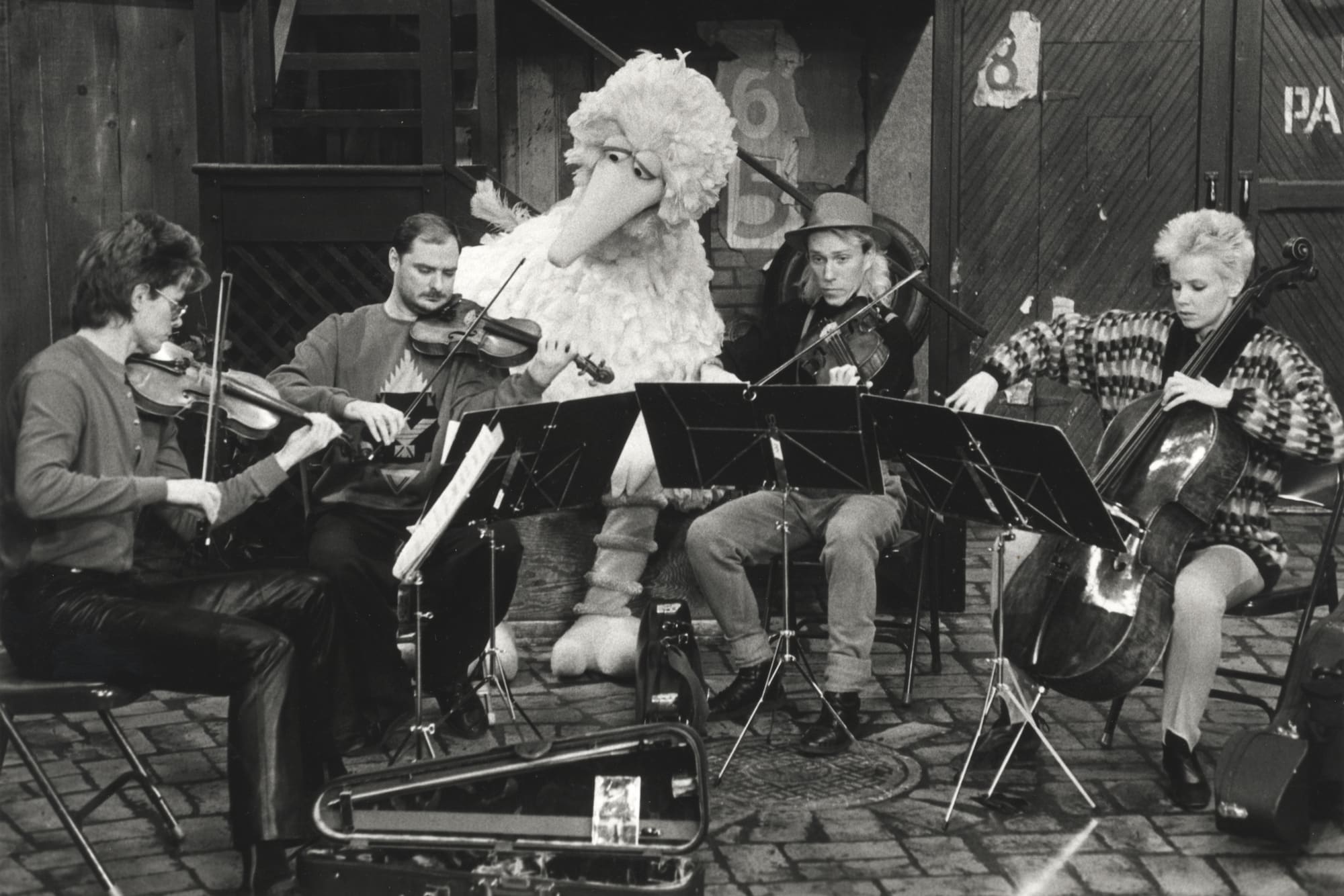 In addition to composers, Kronos counts numerous performers from around the world among its collaborators, including the Chinese pipa virtuoso Wu Man; Azeri master vocalist Alim Qasimov; legendary Bollywood "playback singer" Asha Bhosle, featured on Kronos' 2005 Grammy-nominated CD You've Stolen My Heart: Songs from R.D. Burman's Bollywood; Inuit throat singer Tanya Tagaq; Mexican rockers Café Tacvba; the Romanian gypsy band Taraf de Haïdouks; Iranian vocalist Mahsa Vahdat; and Trio Da Kali, an ensemble of Malian griot musicians assembled by Aga Khan Music Initiative. Kronos has performed live with the likes of Paul McCartney, David Bowie, Patti Smith, Allen Ginsberg, Jarvis Cocker, Zakir Hussain, Modern Jazz Quartet, Noam Chomsky, Rokia Traoré, Tom Waits, Rhiannon Giddens, Howard Zinn, Betty Carter, Van Dyke Parks, Caetano Veloso, k.d. lang, Amanda Palmer, Jherek Bischoff, The National, múm, and Lau's Martin Green, and has appeared on recordings by artists such as Nine Inch Nails, Dan Zanes, Glenn Kotche, Dave Matthews Band, Nelly Furtado, Joan Armatrading, Don Walser, Angelique Kidjo, Dan Wilson, and the San Francisco Girls Chorus. In dance, the famed choreographers Merce Cunningham, Paul Taylor, Twyla Tharp, Alonzo King, Eiko & Koma, and Paul Lightfoot and Sol León (Nederlands Dans Theater) have created pieces with Kronos' music.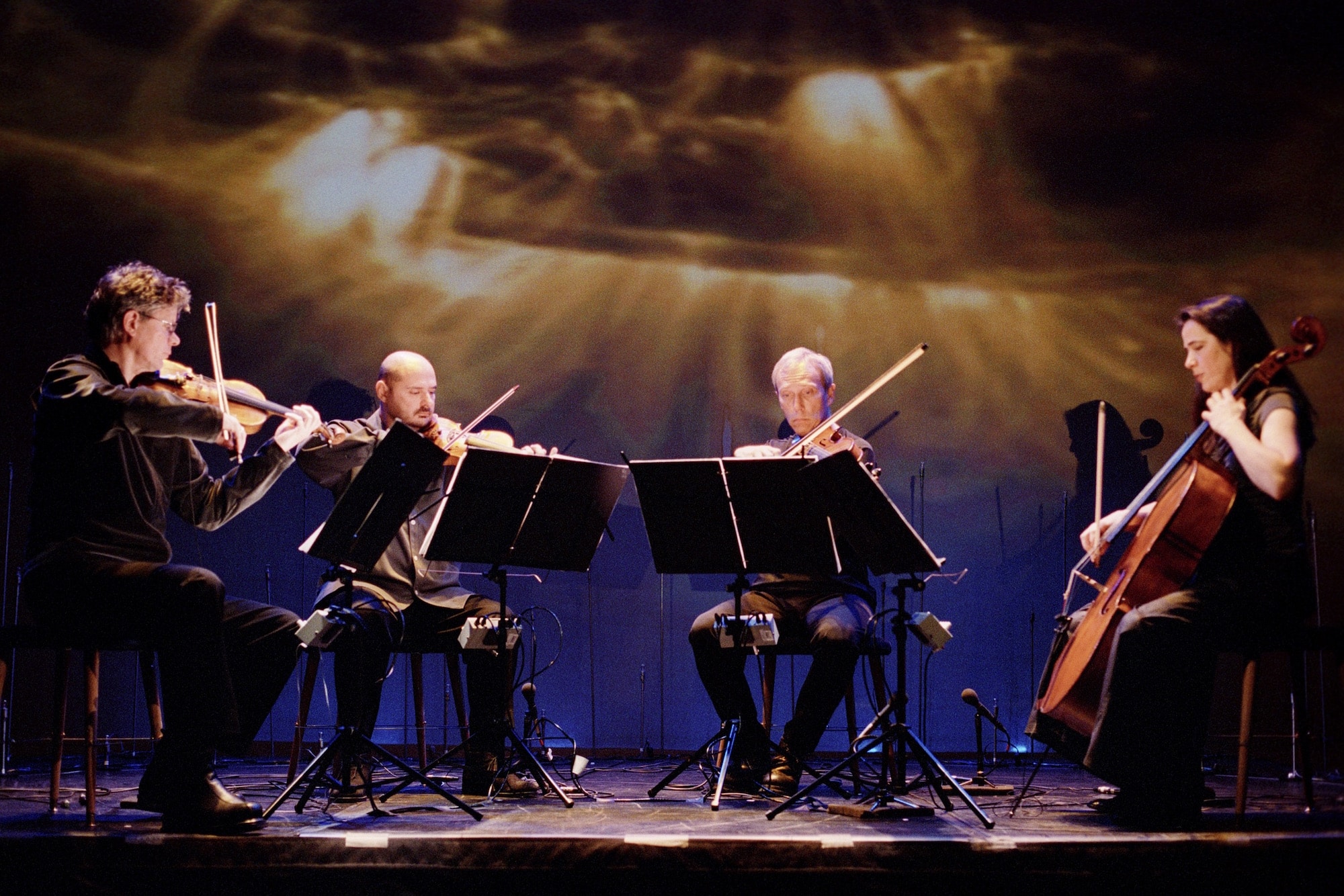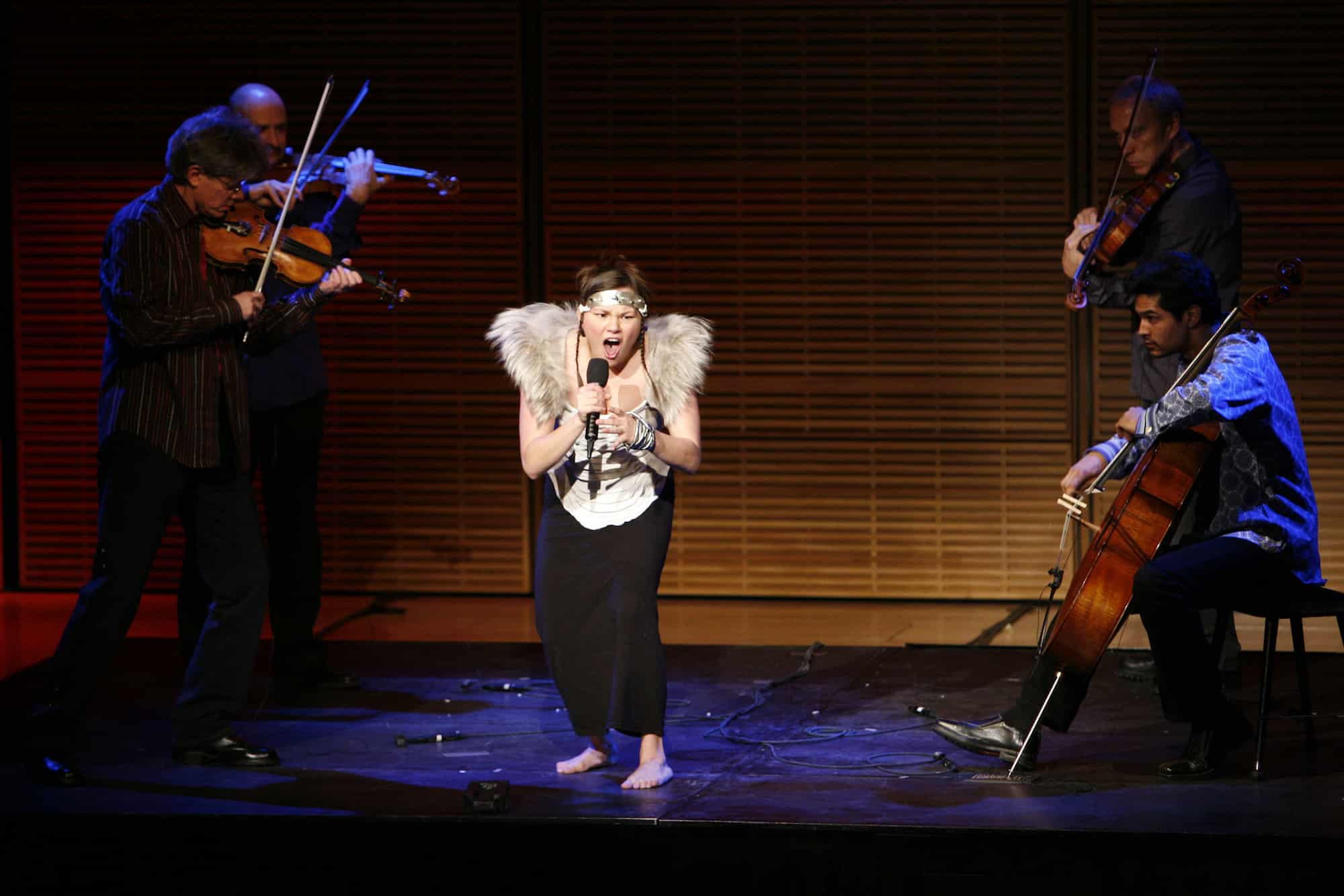 The quartet spends five months of each year on tour, appearing in concert halls, clubs, and festivals around the world including Carnegie Hall, Disney Hall, Barbican in London, BAM Next Wave Festival, Big Ears, The Arts Center at New York University Abu Dhabi, Palacio de Bellas Artes in Mexico City, WOMAD, Amsterdam's Concertgebouw, Shanghai Concert Hall, Lincoln Center Out of Doors, Sydney Opera House, Victoria Hall in Geneva, Switzerland, and Haydn Hall in Schloss Esterhazy.
Kronos' work has been featured prominently in a number of films, including the Academy Award–nominated documentaries How to Survive a Plague (2012) and Dirty Wars (2013), for which Kronos' David Harrington served as Music Supervisor. Kronos also recorded complete film scores by Philip Glass for Dracula, a 1999 restored edition of the 1931 Tod Browning-directed Bela Lugosi classic; Clint Mansell for the Darren Aronofsky films The Fountain (2006) and Requiem for a Dream (2000); Terry Riley for François Girard's Hochelaga terre des âmes (2017); and Jacob Garchik for Guy Maddin's The Green Fog (2017). Additional films featuring Kronos' music include Mishima: A Life in Four Chapters (1985), La grande bellezza (The Great Beauty) (2013), 21 Grams (2003), Heat (1995), and True Stories (1986), among others. A Thousand Thoughts: A live documentary with the Kronos Quartet, written and directed by Sam Green and Joe Bini, features live narration by Green and live music by Kronos. It premiered in 2018 at the Sundance Film Festival and Wexner Center for the Arts at The Ohio State University.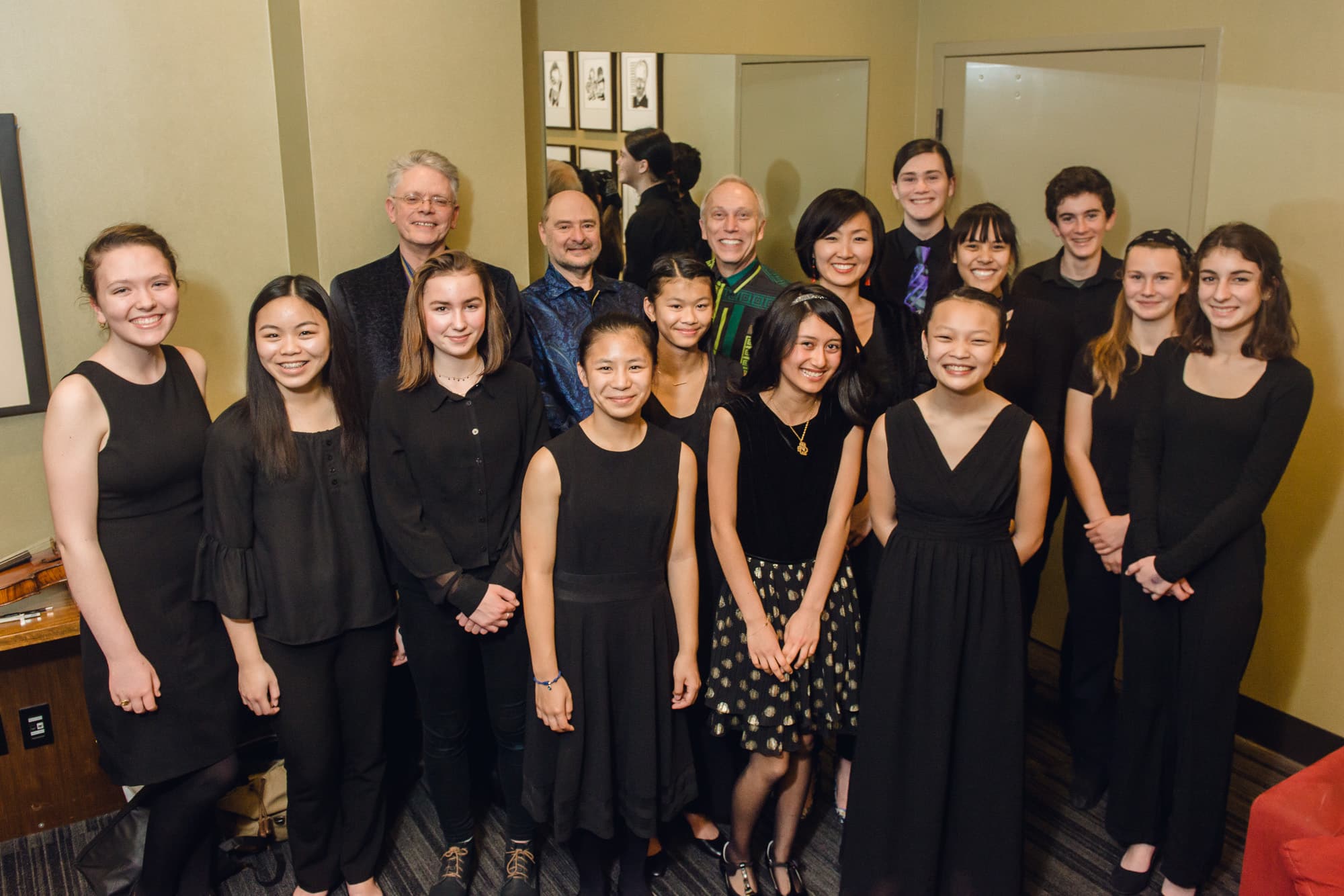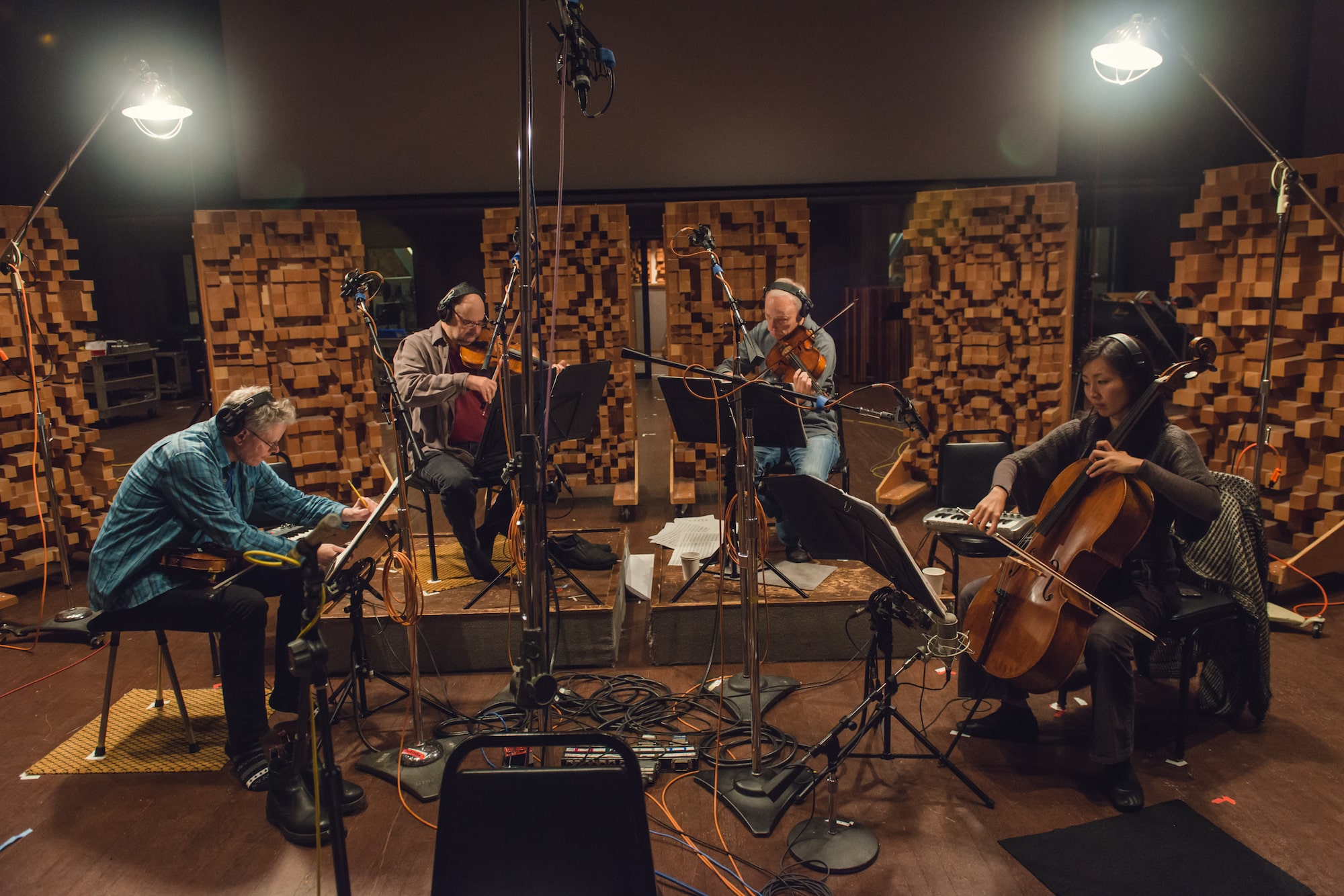 Kronos is equally prolific and wide-ranging on recordings. The ensemble's expansive discography on Nonesuch includes collections like Pieces of Africa (1992), a showcase of African-born composers that simultaneously topped Billboard's Classical and World Music lists; the ten-disc anthology Kronos Quartet: 25 Years (1998); Nuevo (2002), a Grammy and Latin Grammy–nominated celebration of Mexican culture; and three Grammy-winning albums: Alban Berg's Lyric Suite featuring soprano Dawn Upshaw (2003), Landfall with Laurie Anderson (2018), and Terry Riley's Sun Rings with the Volti vocal ensemble (2019). In celebration of the quartet's 40th anniversary season in 2014, Nonesuch released both Kronos Explorer Series, a five-CD retrospective box set, and the single-disc A Thousand Thoughts, featuring mostly unreleased recordings from throughout Kronos' career. Kronos' recent releases include Folk Songs, with Sam Amidon, Olivia Chaney, Rhiannon Giddens, and Natalie Merchant singing traditional folk songs with arrangements by Jacob Garchik, Nico Muhly, Donnacha Dennehy, and Gabe Witcher; Ladilikan with Trio Da Kali; Clouded Yellow, a collection of work written for Kronos by Bang on a Can founding composer Michael Gordon; and Placeless with Mahsa and Marjan Vahdat singing original songs composed by Mahsa Vahdat to poems by Hafez, Rumi, Forough Farrokhzad and others in arrangements by Sahba Aminikia, Aftab Darvishi, Garchik, and Atabak Elyasi. Kronos' classic recordings Requiem for a Dream, Pieces of Africa, Dracula, The Fountain, and Different Trains/Electric Counterpoint have all recently been re-released on vinyl. Music publishers Boosey & Hawkes and Kronos have released two volumes of Kronos Collection sheet music, featuring works by Terry Riley, Hamza el Din, Aleksandra Vrebalov, and Osvaldo Golijov.
In addition to its role as a performing and recording ensemble, the quartet is committed to mentoring emerging performers and composers and has led workshops, master classes, and other education programs with Carnegie Hall's Weill Music Institute, Kaufman Music Center's Face the Music, Ruth Asawa San Francisco School of the Arts, San Francisco Conservatory of Music, and through the Embassy Adoption Program (a program of Washington Performing Arts and District of Columbia Public Schools), among other institutions in the U.S. and overseas. Kronos has recently undertaken extended educational residencies at UC Berkeley's Cal Performances, Holland Festival, Texas Performing Arts Association at the University of Texas at Austin, New York University Abu Dhabi, and Mount Royal University Conservatory.