We are excited to announce our eighth annual Kronos Festival at SFJAZZ Center on June 22, 23 & 24, 2023! This year, Kronos Festival celebrates the diverse and dazzling array of works created for 
Kronos Fifty for the Future
, our commissioning, performance, education, and legacy project. Featuring pieces by 
Rhiannon Giddens
, 
Philip Glass
, 
Zakir Hussain
, 
Angélique Kidjo
, 
Terry Riley
, 
Wu Man
, and more, the festival includes multiple performances over three days, and spotlights quartet innovators—
Aizuri Quartet
, 
Attacca Quartet
, and 
Friction Quartet
—plus special guests 
Rafiq Bhatia
 (guitar), 
Soo Yeon Lyuh
 (haegeum), sound artist and instrument-maker 
Victoria Shen
, and student ensembles from the 
San Francisco Conservatory of Music
.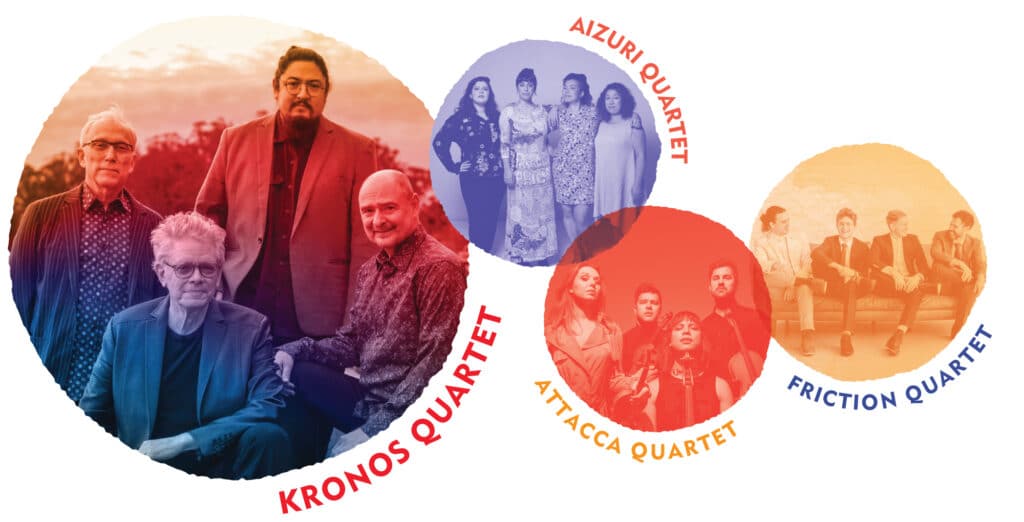 First announced in 2015, KPAA's Kronos Fifty for the Future has commissioned and published a collection of 50 new works for string quartet, creating an unprecedented resource for musicians around the world. Completed in 2022, the full Kronos Fifty for the Future library represents an ear-opening variety of stylistic and cultural perspectives. Through these pieces, players can develop skills that are fundamental to 21st-century repertoire while discovering a wealth of new compositional voices and ideas. Scores and parts, recordings, and supplemental materials for each work are available online for free. To date, these materials have been downloaded more than 30,000 times by visitors from 100+ countries and territories worldwide, reflecting the global reach of Kronos' audience as well as the demand for a more expansive string quartet repertoire.

Thursday, June 22, 7:30pm, Program 1
Kronos Quartet with special guests Aizuri Quartet, Friction Quartet, and Soo Yeon Lyuh
The rich cultural diversity of the Kronos Fifty for the Future repertoire is on full display on opening night, with works by composers representing Benin, Colombia, India, Korea, Mexico, the Netherlands, Russia, and the United States. 
 Kronos Quartet kicks off the evening with Beninese singer-songwriter Angélique Kidjo's YanYanKliYan Senamido #2 and Guillermo Galindo's interactive Remote Control. Korean-born composer and haegeum virtuoso Soo Yeon Lyuh joins Kronos for her own work Yessori. 
San Francisco's adventurous Friction Quartet takes the stage to perform Mario Galeano Toro's Tolo Midi, a piece influenced by the rhythmic and melodic universe of Cumbia, a musical style born in the Colombian Caribbean. The ensemble also performs Pulitzer Prize–winner Henry Threadgill's innovative Sixfivetwo and Merlijn Twaalfhoven's Play. The program concludes with New York's Aizuri Quartet, winners of Chamber Music America's 2022 Cleveland Quartet Award, performing At the Purchaser's Option, Rhiannon Giddens' powerful and haunting piece that draws on the experiences of enslaved women; Amrit, a work by Indian violinist, singer, and composer Kala Ramnath; and pencil sketch, a playful and whimsical piece by Yevgeniy Sharlat. Kronos cellist Paul Wiancko joins Aizuri Quartet to perform his own composition Only Ever Us.

Friday, June 23, 7:30pm, Program 2
Kronos Quartet with special guests Friction Quartet, Rafiq Bhatia, and Victoria Shen 
Kronos Festival continues on Friday, June 23 with much more from the Kronos Fifty for the Future repertoire, expanding the compositional canvas with several longer-form works. San Francisco's eclectic Friction Quartet opens the concert with a compelling mix of works, including Trey Spruance's Séraphîta, a three-movement work based on the novel of the same name by Honoré de Balzac; Barry Guy's what is the word, which draws on the poetry of Samuel Beckett; and Lu Yun's Temples in Taiwan, inspired by a trip the composer took to Longshan Temple. Sound artist, experimental music performer, and instrument-maker Victoria Shen collaborates with Kronos to reimagine works from Kronos Fifty for the Future, offering a unique perspective on the ensemble's repertoire. 
The program continues with Kronos Quartet performing Little Black Book by the prominent electronic composer Jlin; Nicole Lizée's Another Living Soul, a work the composer describes as "stop motion animation for string quartet"; Canadian Inuit composer and throat singer Tanya Tagaq's powerful Sivunittinni; Aleksandra Vrebalov's My Desert, My Rose; and the third movement of Terry Riley's lively and playful This Assortment of Atoms — One Time Only! Guest guitarist and composer Rafiq Bhatia of Academy Award–nominated experimental band Son Lux joins Kronos for his work Glimmers.

Saturday, June 24, Family Concert: Around the World with Kronos, 11am
Kronos Quartet presents its popular Family Show and leads a musical world tour for kids and families. The program will sample short works from the globe-spanning Kronos Fifty for the Future repertoire, with "tour stops" in the composers' home nations of Canada, China, Iran, Ireland, Mali, and back in the U.S.A. The program also includes a Q&A with Kronos Quartet.

Saturday, June 24, 7:30pm, Program 3
Kronos Quartet with special guests Attacca Quartet and Friction Quartet 
The final program of this year's Festival completes the survey of the eclectic Kronos Fifty for the Future repertoire with works by composers from India, Indonesia, Mali, Poland, Switzerland, and the United States (including Puerto Rico). The Friction Quartet opens the evening with Hilathi, a meditative work by Aleksander Kościów and Pulsation, a work by Filipina American composer, percussionist, and sound artist Susie Ibarra.
Kronos welcomes New York's Grammy-winning Attacca Quartet, who performs Sky Macklay's enthralling Vertebrae; Angélica Negrón's Marejada, inspired by the soundscapes of Puerto Rico; and tabla master Zakir Hussain's Pallavi. Attacca also performs Charlton Singleton's Testimony, based on musical practices of the African Methodist Episcopal Church in which the composer's father was a pastor. Kronos Quartet takes the stage for Indonesian Gamelan composer and vocalist Peni Candra Rini's Maduswara; composer, guitarist, and mathematician Stephan Thelen's Circular Lines; and Malian griot singer Hawa Kassé Mady Diabaté's joyful Tegere Tulon: V. Janety. The evening concludes with Philip Glass' Quartet Satz, performed by all the ensembles.

Saturday, June 24: Kronos Labs, 2pm and 5pm, FREE
Kronos Labs features student ensembles from the San Francisco Conservatory of Music performing compositions from the Kronos Fifty for the Future repertoire at 2pm. The 5pm lab offers an inside look at the Kronos Fifty for the Future project with a panel discussion  featuring Kronos founder and violinist David Harrington, and musicians/composers Rafiq Bhatia, Soo Yeon Lyuh, and Paul Wiancko.