On Sunday, Kronos received the 2018 WOMEX Artist Award at the annual world music showcase, conference and trade fair. It is a great honor to be recognized "for [Kronos'] tireless efforts in the pursuit of the new; for bringing international music of all styles new audiences, new works and new outlooks; and for their stature as the most important string quartet of their generation." Read the complete introduction from the delegate guide >
We are truly humbled to be added to the esteemed list of WOMEX award recipients. We would like to express our deep appreciation to Alexander Walter, Ben Mandelson and the rest of the WOMEX team for this honor.
We would like to acknowledge several people, whom we consider to be partners and mentors: David Jones, Lucy Duran, Bob Hurwitz, Ken Hunt, Fairouz Nishanova, Ted Levin, Wu Man and Bill Bragin. After 45 years, there are just too many people to thank by name – musicians, composers and arrangers; record companies, especially Nonesuch Records; agents and representatives; promoters, presenters and festival directors; journalists; our teachers; the Kronos Performing Arts Association staff, board and managing director Janet Cowperthwaite; our families; and, perhaps most important, you – our fans and audiences.
Congratulations to the other winners: ShoShona Kish and Glitterbeat Records.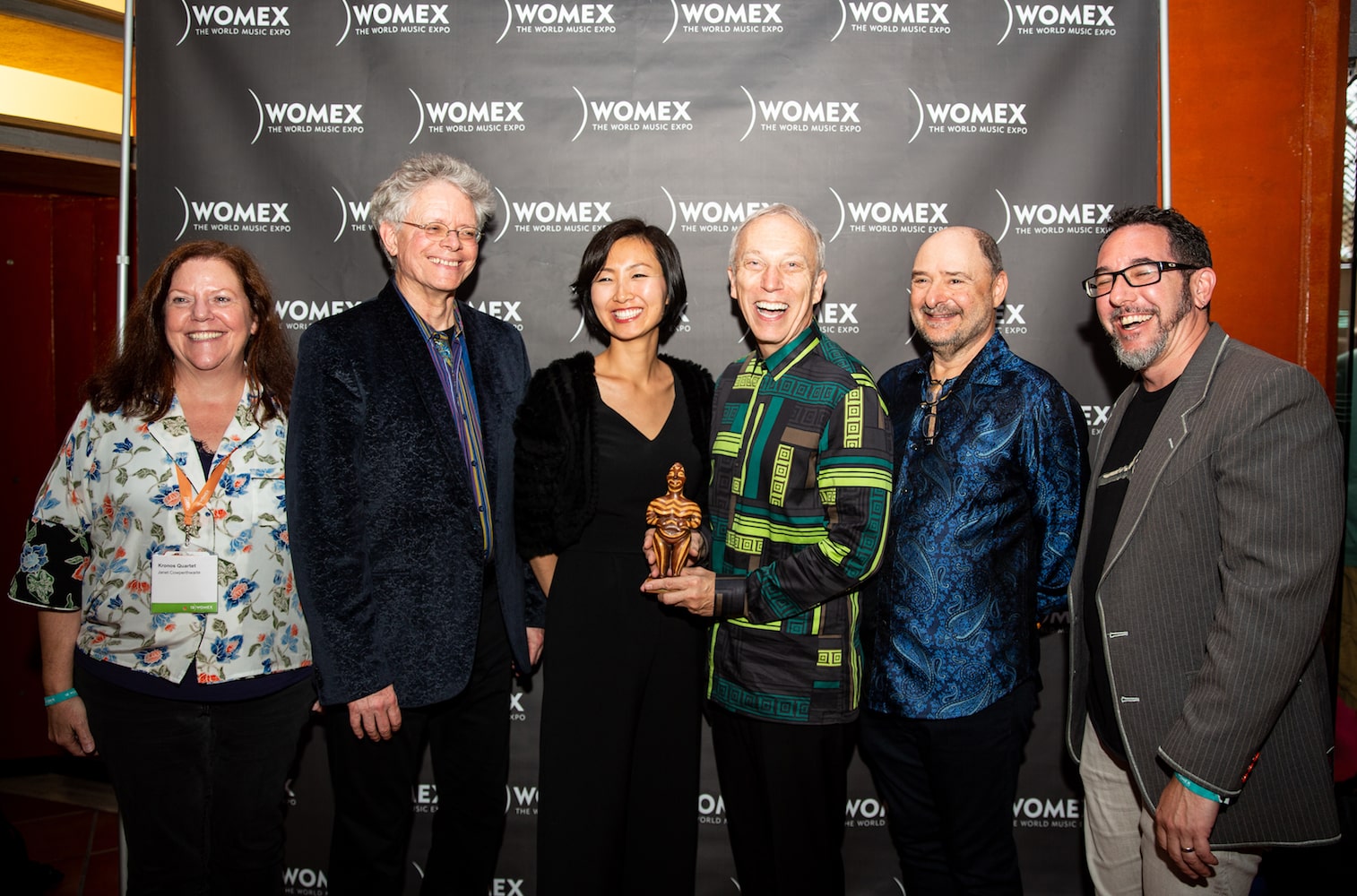 KRONOS PERFORMING ARTS ASSOCIATION MANAGING DIRECTOR JANET COWPERTHWAITE, KRONOS QUARTET – DAVID HARRINGTON, SUNNY YANG, HANK DUTT AND JOHN SHERBA – AND THE ARTS CENTER AT NEW YORK UNIVERSITY ABU DHABI EXECUTIVE ARTISTIC DIRECTOR BILL BRAGIN AT WOMEX 18 IN LAS PALMAS, GRAN CANARIA, SPAIN / PHOTO BY JACOB CRAWFURD

We are grateful for Bill Bragin's beautiful lauditorio, which he delivered at the ceremony. The text of his speech follows below:
"It started with a sound. Not a melody, or a rhythm, or a style. But a sound.
"When the founder of today's WOMEX Artist award winner recounts the beginning of his interest in playing the violin, he rhapsodizes about hearing the opening E-flat-major chords of Beethoven's Opus 127 for the first time. About the ecstasy and inspiration this sound gave him, leading him on a lifelong pursuit of sounds that would provide a similar transcendent thrill.
"They started with a composition. Not just any composition. George Crumb's Black Angels, a searing, emotionally intense elegy written during the Vietnam War. A piece of music that exploded genres as it made an argument for the interconnectedness of human beings across geography and culture.
"For 45 years, the award winners have continued this musical pursuit of sounds that can travel across time and space, geography and cultural origin.
"They've done so, not as a way to blur the edges of genre and culture, but to celebrate the edges.
"They've done so by expanding the repertoire of the contemporary string quartet to the tune of more than 1000 commissioned compositions and arrangements from hundreds of composers. Composers ranging from Terry Riley, Aleksandra Vrebalov, Philip Glass and Laurie Anderson, to so many from the WOMEX community including Wu Man, Astor Piazzola, Trio da Kali, Mahsa Vadhat, Alim Qasimov, and Kimmo Pohjonen.
"They've worked regularly and over many years with trusted partners, such as Bob Hurwitz and David Bither of Nonesuch Records, David Jones of Serious, Fairouz Nishanova of the Aga Khan Musical Initiative, and Lucy Duran of SOAS – to name only a few.
"On the road for five months a year, they have performed thousands concerts over the years, touring throughout North and South America, Europe, Asia, the Middle East, and Australia. (They are still looking for invites to India, Vietnam and all over Africa.)
"They've committed to extending their legacy through the creation of Fifty for the Future: The Kronos Learning Repertoire in which their not-for-profit organization – (spoiler alert) the Kronos Performing Arts Association – is commissioning 50 new works over five years, notably half from women and half from men. This includes some possibly surprising choices: Tanya Tagaq, Lassana Diabate of Trio da Kali, Rhiannon Giddens of Carolina Chocolate Drops, Zakir Hussain and Kala Ramnath will create new works designed to teach young musicians to expand their repertoire to extended techniques and non-Western classical approaches to music making. The pieces are available for free on their website – so far more than 11,000 scores have been downloaded in more than 80 countries.
"They've collaborated with countless musicians, as well as artists from other fields including filmmaker Sam Green, puppet theater company Phantom Limb, historian Howard Zinn, Nederlands Dance Company, and Eiko and Koma, to name just a few.
"They've performed in every imaginable setting from the Roskilde Festival to The Concertgebouw, from Carnegie Hall to a first grade classroom in San Francisco. Their more than 60 recordings have explored the music of the African continent, the flood plains of the Middle East, Mexico, Mali and the moon.
"I remember the first time I got to know the award winners. We had booked them to play a five night run at Joe's Pub at the Public Theater celebrating the release of their album of Mexican composers, Nuevo. Backstage, I saw David Harrington write something in his notebook and oversaw the name of Emil Zrihan, the incredible Moroccan Jewish cantor I heard for the first time at my first WOMEX in 1996. This led us to bringing in stacks of CDs and sitting in their dressing room sharing music like we were in high school.
"I've had the pleasure of co-curating a week of concerts in celebration of their 40th anniversary at Lincoln Center Out of Doors, with a lineup that included a tribute to Fela Kuti, singers Mariana Sadovska, and Magda Giannikou, and the teenage musicians of Face the Music performing their commissions by Steve Reich and others.
"I've brought them to The Arts Center at NYU Abu Dhabi twice, and witnessed their commitment to teaching the next generation; to learning from the community to which they travel; and to sharing an expansive musical vision which I've never seen matched, with a humanistic curiosity and love that was so beautifully captured in their live cinema concert; A Thousand Thoughts. And I've gotten carsick with them dunebashing in the Liwa desert and passing out under the wide open skies of the Empty Quarter.
"I'm deeply honored to be able to present the WOMEX Artist Award to David Harrington, Hank Dutt, John Sherba and Sunny Yang, as well as the Brian Epstein of the group, Janet Cowperthwaite, who have personally done so much to expand my musical universe, and who have done so much to redefine the role of the string quartet in the world." – Bill Bragin, October 28, 2018, Las Palmas, Gran Canaria, Spain