UPDATE (July 7, 2020): As usual in life, there is good news and bad news. Bad first? The horrible, terrible of it: the limited edition "Gorey green" pressings are sold out. Need a cheer up? Long festering, the album has mutated beyond the constraints of our physical world and may now be downloaded from Bandcamp.
The Gorey End, Kronos' 2003 Grammy-nominated collaboration with the Tiger Lillies, is being issued on vinyl for the first time on March 7th. These limited edition LPs are available in "Gorey green" (only 200) and "Bat black" with a lyrics insert featuring artwork by Edward Gorey. Preorder from the Tiger Lillies' Shop.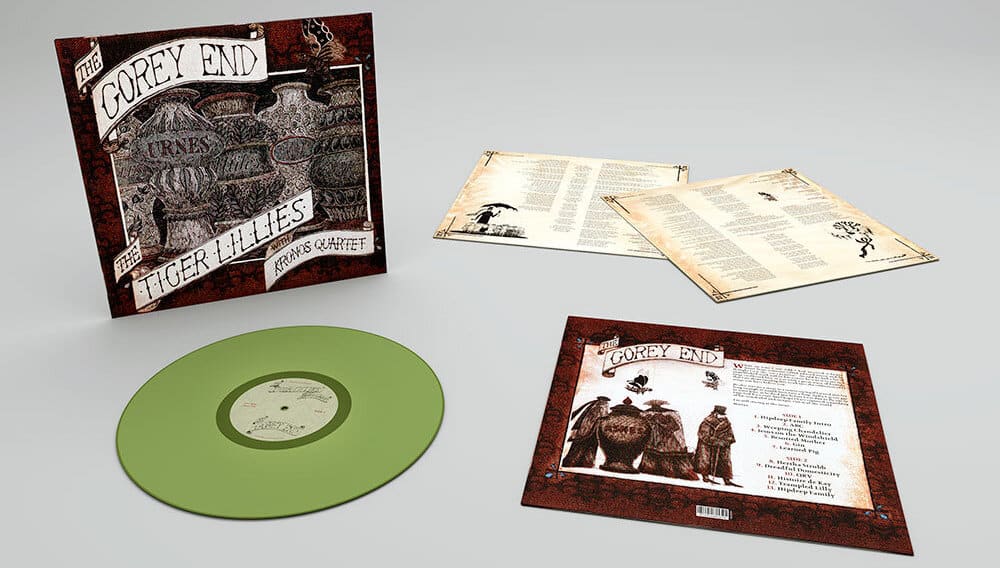 So much for us, we hope that you
Somehow managed to get through
The year and so can celebrate
A bit before the hands of fate
Shall get us in its clutch again
But we anticipate our Gorey end.
Amen.
Long out of print, The Gorey End features adaptations by the Tiger Lillies' founder and frontman Martin Jaques of unpublished works by Edward Gorey, the American illustrator and writer known for what The New Yorker described as "his little books of sinister whimsy." In his note for the album, Jaques described the development of the album: "While on tour, I was told I had received a funny letter from someone called Edward Gorey, and he thought I was the cat's pyjamas.' He said he had a lot of unpublished work and in due course he sent it to me in a large cardboard box… He also sent me a stone in a saucer saying if I stared at it long enough it would turn me into a frog."
TRACK LISTING
Hipdeep Family Intro
ABC
Weeping Chandelier *
Jesus on the Windshield *
Besotted Mother *
Gin
Learned Pig *
Hertha Strubb *
Dreadful Domesticity *
QRV
Histoire de Kay *
Trampled Lilly *
Hipdeep Family *
* – with Kronos Quartet (David Harrington, John Sherba, Hank Dutt, Jennifer Culp)