Kronos Quartet/Kronos Performing Arts Association (KPAA) is pleased to present Kronos Festival 2019, Kronos' fifth annual, three-day music festival, at SFJAZZ Center on May 30–June 1, 2019. Kronos Festival 2019 will highlight the voices of singers, storytellers and activists over three evening concerts, a Saturday morning family concert and Kronos Labs, free public events that are new this year. Kronos has long collaborated with vocal artists, including in its recent Grammy Award–winning album Landfall (Nonesuch Records) with Laurie Anderson and its new album Placeless (Kirkelig Kulturverksted) with Iranian singers Mahsa and Marjan Vahdat.
During the festival, a wide range of artists will join Kronos on stage. Experimental duo CocoRosie, Malian griot singer Hawa Kassé Mady Diabaté (of Trio Da Kali), and the San Francisco Girls Chorus are all returning from last year's festival. In addition, folk musicians Sam Amidon and Lee Knight, composer and bassist Jherek Bischoff, writer Rebecca Solnit and filmmaker Sam Greenwill perform. Highlighting Kronos' legacy of mentorship, students from the Ruth Asawa San Francisco School of the Arts once again take center stage during the festival. Kronos is honored that Valérie Sainte-Agathe, artistic director of the San Francisco Girls Chorus and frequent Kronos collaborator, will be Kronos Festival 2019's Artist-in-Residence. Additional guests will be announced. Explore complete programs and buy tickets >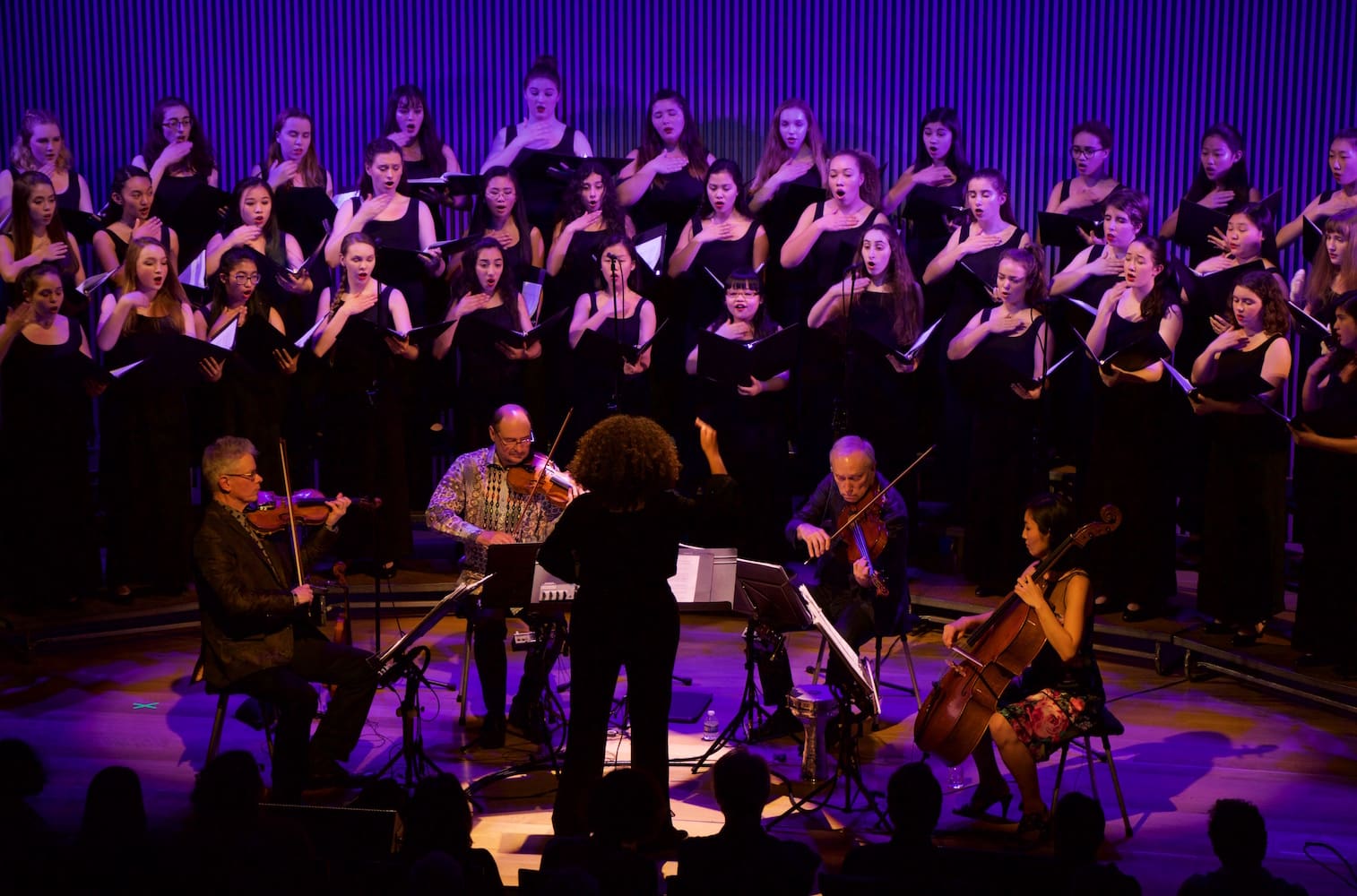 Kronos Quartet with the San Francisco Girls Chorus and Valérie Sainte-Agathe / credit Evan Neff
Each festival presents Kronos with an opportunity to unveil new work. The ensemble will debut the first part of a project, commissioned by the FreshGrass Foundation, that will commemorate the life and legacy of folk icon and activist Pete Seeger, who would have turned 100 years old this May. Kronos will also perform the US premiere of Stranger, originally written by Bischoff for the Royal Conservatory of Music's 2018 21C Music Festival in Toronto, and the Bay Area premiere of Glorious Mahalia, a work by Chicago-based composer Stacy Garrop that celebrates legendary singer Mahalia Jackson through the words and spirit of oral historian and activist Studs Terkel.
Kronos also premieres two pieces written for 50 for the Future: The Kronos Learning Repertoire. One is by Stanford University composer Mark Applebaum, whose works frequently consist of both gestural movements and sound, and another by Diabaté, whose work is inspired by the tegere tulon—a tradition of handclapping songs and dances created spontaneously by girls in country villages of southern Mali. Kronos' 50 for the Future is a string quartet commissioning, performance, education and legacy project that is creating a library of 50 works—composed by 25 women and 25 men—designed to guide young amateur and early-career professional string quartets in developing and honing the skills required for the performance of 21st-century repertoire. During Kronos Festival 2019, scores and parts, recordings, and other pedagogical materials for five new works will be made publicly available on Kronos' website, bringing the total number of available works to 30.
This year, the festival also debuts Kronos Labs, an admission-free series, on Saturday afternoon. "Big Five of Bayview" is a free talk and performance led by Sainte-Agathe that will highlight the legacy of the Bayview–Hunters Point neighborhood activists and include a protest music sing-along featuring music popularized by Pete Seeger. "Pete Seeger: 'The World that Music Lives In'" is a free talk by American Folklife Center, Library of Congress curator Todd Harvey that will illustrate Seeger's career and efforts for peace and social justice.
Additional program highlights include Solnit and others reading selected testimonies as part of the national Voices of a People's History project, inspired by the scholarship of historian Howard Zinnon Thursday night; Green enlisting Kronos in Por Vida!, a live documentary short about San Francisco's legacy business Casa Sanchez on Friday night; and ethnomusicologist Dr. Lucy Durángiving a pre-show talk about the tegere tulon on Saturday night.
"I feel so honored to be the Kronos Festival Artist-in-Residence this year," says Sainte-Agathe. "It is, for me, a wonderful opportunity to join artistic forces and give hope and energy for the future to our community. Music is a powerful tool. I am grateful to be able to keep fighting together to advocate for more diversity and to move forward without ignoring the past. I am thrilled to have the San Francisco Girls Chorus be part of this adventure. Making sure women's voices are heard, believed and respected, even at a very young age, is such a priority."
"Kronos Festival 2019 will celebrate music, activism, stunning voices, San Francisco and the promise of youth," says David Harrington, Kronos' artistic director, founder and violinst. "You will hear Mahalia Jackson, Studs Terkel, Rebecca Solnit, Sam Amidon, Hawa Kassé Mady Diabaté, CocoRosie and the San Francisco Girls Chorus with Valérie Sainte-Agathe, Kronos Festival 2019 Artist-in-Residence. Filmmaker Sam Green will tell a Mission District story. Long time Kronos collaborator Jacob Garchik has a new piece celebrating the 100th year of singer, banjoist and all-around activist force in American culture Pete Seeger. The penetrating words of Howard Zinn will unite music with energized action, and young musicians from Asawa SOTA will inspire hope. Kronos Festival 2019 charts new directions for the work of Kronos. It will be festive, pointed and fun."
Explore the complete programs and buy tickets >
KRONOS FESTIVAL 2019 is produced by the Kronos Performing Arts Association (KPAA) and is part of the San Francisco–based 501(c)3 nonprofit's KRONOS PRESENTS program. It is made possible by generous support from San Francisco Grants for the Arts, the National Endowment for the Arts, the Clarence E. Heller Charitable Foundation, and the Kronos Performing Arts Association Board of Directors.
ABOUT VALÉRIE SAINTE-AGATHE
Valérie Sainte-Agathe, artistic director of the San Francisco Girls Chorus (SFGC), has conducted SFGC since 2013, including in performances with renowned artists such as Jon Nakamatsu, Deborah Voigt, Laurie Rubin, Philip Glass, Aaron Jay Kernis, Gustavo Dudamel and Michael Tilson Thomas. A strong believer in musical collaborations, she has performed with the New Century Chamber Orchestra, Kronos Quartet, Magik*Magik Orchestra and Tenet Ensemble. In February 2018, she made her Carnegie Hall debut with the Philip Glass Ensemble, conducting with Michael Riesman in Glass' Music with Changing Parts. She also conducted The Photographer by Philip Glass in October 2017. In June 2016, she conducted the Chorus alongside The Knights Orchestra and Brooklyn Youth Chorus for the New York Philharmonic's NY PHIL BIENNIAL festival at Lincoln Center. She also collaborated with The Knights for the SHIFT A Festival of American Orchestras at the Kennedy Center in Washington, DC. After five years in the United States, her first recording as SFGC's Music Director, Final Answer, was released on Orange Mountain Music in February 2018. Between 2014 and 2016, she was assistant conductor for Lisa Bielawa's made-for-TV opera, Vireo. Kronos collaborated on both Final Answer and Vireo.
Sainte-Agathe served as Music Director for the Young Singers program of the Montpellier National Symphony and Opera in France from 1998–2011. In this capacity, she trained young singers for opera and symphony concerts and productions. She participated in eight recordings with the Montpellier National Orchestra and The Radio France Festival. She is a recipient of Victoires de la Musique, and a two-time recipient of the Orphée d'Or award—for Honegger's Jeanne d'Arc au bûcher and d'Indy's L'Étranger. Sainte-Agathe studied at the Montpellier Conservatory in piano performance. She received her bachelor's degree in conducting and a Master in Management from Université Paul Valery in Montpellier.