Kronos FESTIVAL ARCHIVE: 2019
May 30, May 31 and June 1, 2019
SFJAZZ Center
201 Franklin Street, San Francisco, California
Valérie Sainte-Agathe (San Francisco Girls Chorus), Artist-In-Residence
THU, MAY 30, 7:30PM
FRI, MAY 31, 7:30PM
SAT, JUN 1, 11AM
SAT, JUN 1, 7:30PM
KRONOS LABS
THU, MAY 30, 7:30PM
Opening Night
Kronos Quartet with Valérie Sainte-Agathe and guests Rebecca Solnit, Meklit, Michael Wayne Turner III, Lee Knight, and San Francisco Girls Chorus, as well as a special appearance by the Dragon String Quartet
Rhiannon Giddens (arr. Jacob Garchik) / At the Purchaser's Option with variations *
Performed by Dragon String Quartet (Ruth Asawa San Francisco School of the Arts)
Mark Applebaum / Flashlight *  World premiere
Jlin (arr. Jacob Garchik) / Little Black Book *
Voices of a People's History
Introduced by Valérie Sainte-Agathe
Howard Zinn / "The Problem Is Civil Obedience"
Read by Rebecca Solnit
Marge Piercy / "The Low Road"
Read by Meklit
Pete Seeger / "Step by Step" from the American Miners' Association Constitution
Read by Lee Knight
Martin Luther King, Jr. / Excerpts from "I've Been to the Mountaintop" (Memphis, Tennessee, April 3, 1968) and "The American Dream" (Ebenezer Baptist Church, July 4, 1965)
Read by Michael Wayne Turner III
Michael Gordon / Exalted **
with San Francisco Girls Chorus, conducted by Valérie Sainte-Agathe
Fatimah Al-Zaelaeyah (arr. Jacob Garchik) / Ya Mun Dakhal Bahr Al-Hawa (Hey, Who Enters The Sea of Passion?) +
Missy Mazzoli / Enthusiasm Strategies *  World premiere
Stacy Garrop / Glorious Mahalia **  Bay Area Premiere
I. Hold on
II. Stave in the ground
III. Are you being treated right
IV. Sometime I feel like a motherless child
V. This world will make you think
featuring the recorded voices of Mahalia Jackson and Studs Terkel
The Board of Directors of the Kronos Performing Arts Association is proud to help sponsor this performance.
FRI, MAY 31, 7:30PM
SAT, JUN 1, 11AM
SAT, JUN 1, 7:30PM
KRONOS LABS

This year, the festival highlights the voices of singers, storytellers, and activists over three evening concerts, a Saturday morning family concert, and Kronos Labs, free public events that are new this year.
During the festival, a wide range of artists will join Kronos on stage. Experimental duo CocoRosie, Malian griot singer Hawa Kassé Mady Diabaté (of Trio Da Kali), and the San Francisco Girls Chorus are all returning from last year's festival. In addition, folk musicians Sam Amidon and Lee Knight, local singer-songwriter Meklit, composer and bassist Jherek Bischoff, writer Rebecca Solnit, filmmaker Sam Green, spoken word artist and actor Michael Wayne Turner III, and musician Brian Carpenter (of Beat Circus and Ghost Train Orchestra) will perform. Highlighting Kronos' legacy of mentorship, students from the Ruth Asawa San Francisco School of the Arts once again take center stage during the festival. Kronos is honored that Valérie Sainte-Agathe, artistic director of the San Francisco Girls Chorus and frequent Kronos collaborator, will be Kronos Festival 2019's Artist-in-Residence.
Each festival presents Kronos with an opportunity to unveil new work. The ensemble will debut the first part of a project, commissioned by the FreshGrass Foundation, that will commemorate the life and legacy of folk icon and activist Pete Seeger, who would have turned 100 years old this May. Kronos will also perform the Bay Area premiere of Glorious Mahalia, a work by Chicago-based composer Stacy Garrop that celebrates legendary singer Mahalia Jackson through the words and spirit of oral historian and activist Studs Terkel.
Kronos also premieres three pieces written for 50 for the Future: The Kronos Learning Repertoire: Flashlight by Stanford University composer Mark Applebaum, whose works frequently consist of both gestural movements and sound; Enthusiasm Strategies by Missy Mazzoli, "one of the more consistently inventive, surprising composers now working in New York" (New York Times); and Tegere Tulon by Diabaté, whose work is inspired by (and receives its title from) the tradition of handclapping songs and dances created spontaneously by girls in country villages of southern Mali.

THANK YOU TO OUR FUNDERS AND SPONSORS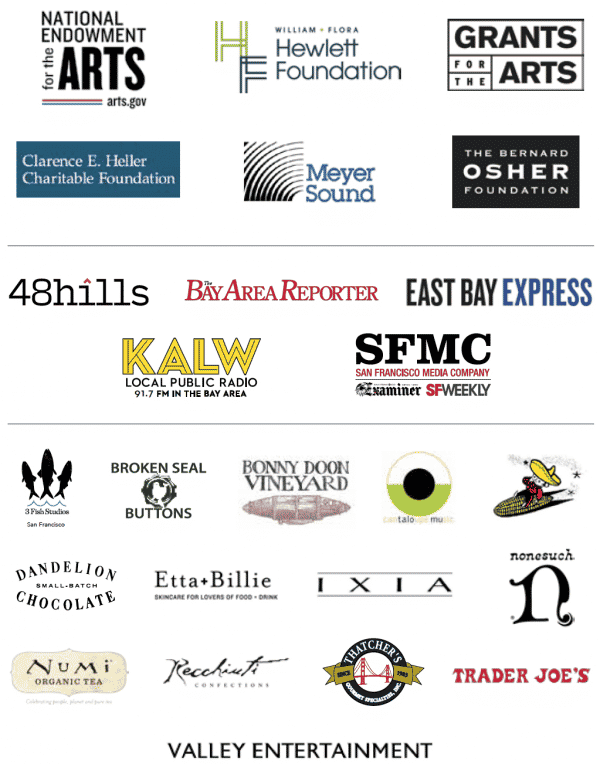 Kronos Festival 2019 is produced by the Kronos Performing Arts Association (KPAA) and is part of the San Francisco-based 501(c)3 nonprofit's KRONOS PRESENTS program. It is made possible by generous support from San Francisco Grants for the Arts, the National Endowment for the Arts, the Clarence E. Heller Charitable Foundation, and the Kronos Performing Arts Association Board of Directors.