April 26, 27 & 28, 2018
SFJAZZ Center
201 Franklin Street, San Francisco, California 
David Coulter, Artist-In-Residence
THU, APR 26, 7:30PM
OPENING NIGHT

Islam Chipsy (arr. Jacob Garchik) / Zaghlala زغللةً **
Zakir Hussain (arr. Reena Esmail) / Pallavi **  World Premiere
with Zakir Hussain, tabla
CocoRosie / Songs *  World Premiere
with CocoRosie, voices
     – CocoRosie (arr. Doug Wieselman) / I Fell In Love With A Sailor *
     – CocoRosie (arr. Doug Wieselman) / The Void Part 1 *
     – CocoRosie (arr. Doug Wieselman) / The Void Part 2 *
     – CocoRosie (arr. Doug Wieselman) / The Show Is Almost Over *
John White / Drinking and Hooting Machine
with guests TBD
John Coltrane (arr. Jacob Garchik) / Alabama +
Ralph Carney (arr. Danny Clay) / Lament for Charleston +^
with David Coulter, artist-in-residence
Mahsa Vahdat / Songs +^  World Premiere
with Mahsa Vahdat, voice, and David Coulter, artist-in-residence
– Mahsa Vahdat (arr. Sahba Aminikia) / My place is the Placeless, my trace is the Traceless and Oh lover! Go mad, go mad!  +
– Mahsa Vahdat (arr. Sahba Aminikia) / Eternal meadow +
– Mahsa Vahdat (arr. Atabak Elyasi) / Dead yet I was, then came to life +
Special thanks to Alex Kelly for his help in developing Zakir Hussain's Pallavi.
FRI, APR 27, 7:30PM
SAT, APR 28, 11AM
SAT, APR 28, 2PM
SAT, APR 28, 5PM
SAT, APR 28, 7:30PM

The San Francisco–based, Grammy-winning Kronos Quartet and its nonprofit Kronos Performing Arts Association presents their fourth annual hometown music festival Kronos Festival 2018 this April at SFJAZZ Center. With six concerts over three days, Kronos Festival 2018 illustrates one of the group's central artistic tenets: collaboration.
Together for the first time since the release of their critically acclaimed joint album Ladilikan last fall, Kronos and the Malian griot ensemble Trio Da Kali perform music from the LP that topped several year-end best-of lists, including Songlines, fRoots and the Transglobal World Music Chart. Returning from previous festivals are Zakir Hussain, Mahsa Vahdat, Vân-Ánh Võ and the San Francisco Girls Chorus, conducted by Valérie Sainte-Agathe. Kronos also unveils exciting new projects with the wildly performative experimental duo CocoRosie and genre-bending singer-songwriter Jolie Holland. Additional guests to be announced.
This year's festival highlights the expansive sonic worlds of David Coulter, who serves as the festival's artist-in-residence. The British-born, Bay Area–based multidisciplinary artist, musician, composer, director and educator has worked with Kronos since the 1990s. Known for his work with The Pogues, Tom Waits, Robert Wilson, Laurie Anderson, Yoko Ono, Beck and Gorillaz, as well as his theatrical scores, including A.C.T.'s recent production of A Thousand Splendid Suns, Coulter will be featured throughout the festival.
A thread woven throughout the festival is Kronos' Fifty for the Future open access education initiative, which is commissioning—and distributing for free—a learning library of contemporary repertoire. Eleven of these 50 commissions will be performed by Kronos and, fittingly, by the Ruth Asawa San Francisco School of the Arts' Dragon String Quartet and the Bay Area–based ensemble Amaranth Quartet.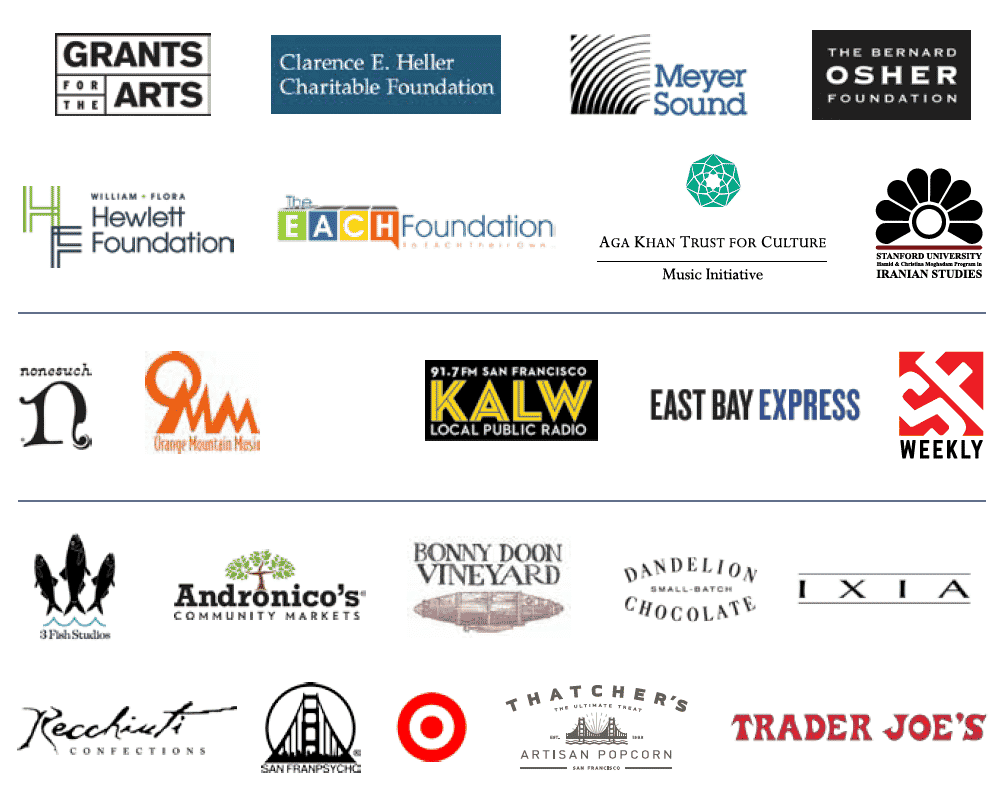 Kronos Festival 2018 is made possible by generous support from San Francisco Grants for the Arts, the Clarence E. Heller Charitable Foundation, the Kronos Performing Arts Association Board of Directors, the EACH Foundation, the Aga Khan Music Initiative, and the Hamid and Christina Moghadam Program in Iranian Studies at Stanford University. Additional support is provided by The William and Flora Hewlett Foundation, Meyer Sound, and The Bernard Osher Foundation. Kronos Performing Arts Association also appreciates the support of Nonesuch Records, Orange Mountain Music, and its local community, including media sponsors East Bay Express, San Francisco Media Company, and KALW, as well as 3 Fish Studios, Andronico's Community Markets, Bonny Doon Vineyard, Dandelion Chocolate, IXIA, Recchiuti Confections, San Franpsycho, Target at the Metreon, Thatcher's Gourmet Popcorn, and Trader Joe's (Hyde Street).