Kronos FESTIVAL ARCHIVE: 2016
KRONOS FESTIVAL 2016:
Explorer Series
February 4, 5, 6, & 7, 2016
SFJAZZ Center
201 Franklin Street, San Francisco, California 
Wu Man, Artist-In-Residence
THU, FEB 4, 7:30PM
FRI, FEB 5, 7:30PM
SAT, FEB 6, 2PM
SAT, FEB 6, 3:30PM
SAT, FEB 6, 5PM
SAT, FEB 6, 7:30PM
SUN, FEB 7, 11AM
THU, FEB 4, 7:30PM
OPENING NIGHT!
Franghiz Ali-Zadeh / Rǝqs (Dance) *  World premiere
Composed for Fifty for the Future: The Kronos Learning Repertoirev
Wu Man (realized by Danny Clay) / Selections from Four Chinese Paintings *  SF premiere
I. Gobi Desert at Sunset 大漠夕阳
IV. Silk and Bamboo 丝与竹
Composed for Fifty for the Future: The Kronos Learning Repertoire
N. Rajam (arr. Reena Esmail) / Dadra in Raga Bhairavi +  World premiere
Astor Piazzolla / Four, for Tango *
Severiano Briseño (arr. Osvaldo Golijov) / El Sinaloense (The Man from Sinaloa) +
with special guests Students from Ruth Asawa San Francisco
School of the Arts
Mariana Sadovska / Chernobyl.The Harvest *  West Coast premiere
I.  Doroha. Дорога (The Road)
II. Zhnyva. Жнива (The Harvest)
III. Platch. Плач (Lamentation)
IV. Rai. Рай (Paradise)
with special guest Mariana Sadovska, voice, harmonium
ENCORE:
Pete Townshend (arr. Jacob Garchik) / Baba O'Riley +
FRI, FEB 5, 7:30PM
SAT, FEB 6, 2PM
SAT, FEB 6, 3:30PM
SAT, FEB 6, 5PM
SAT, FEB 6, 7:30PM
SUN, FEB 7, 11AM

Kronos Quartet / Kronos Performing Arts Association (KPAA) presents its second annual hometown music festival—Kronos Festival 2016: Explorer Series—with seven concerts over four days connecting San Francisco audiences to a wide range of musical voices and traditions from around the globe. Featuring more than a dozen works in their first Bay Area performances, including many world and US premieres, the Explorer Series also features guest performers David Coulter (born in the UK), Fodé Lassana Diabaté (Mali), KITKA, Ritva Koistinen (Finland), Abbos Kosimov (Uzbekistan), Andy Meyerson, Salar Nader (Afghan American), Mariana Sadovska (born in Ukraine), Homayun Sakhi (Afghanistan), and Vân-Ánh Võ (born in Vietnam). San Francisco Girls Chorus and musicians from Ruth Asawa San Francisco School of the Arts join Kronos onstage to perform KPAA–commissioned works, and the festival culminates in a daytime family concert celebrating the Lunar New Year.
For more than 40 years, Kronos Quartet has explored the spectrum of human experience by engaging with countless musical cultures, and with Kronos Festival 2016: Explorer Series, the group shares some of these discoveries with Bay Area audiences. Kronos' four festival concert programs feature new and recent works by internationally-renowned contemporary composers, including Franghiz Ali-Zadeh, Sahba Aminikia, Donnacha Dennehy, Nicole Lizée, Karin Rehnqvist, and Aleksandra Vrebalov. In many of these works, the sounds of the string quartet blend with traditional instruments such as the West African balafon, harmonium, the Finnish kantele, and the Vietnamese đàn Tranh.
Mariana Sadovska's Chernobyl.The Harvest reflects on the aftermath of the Chernobyl disaster in the composer's native Ukraine, drawing on themes from traditional songs, rituals, and ceremonies to create a work of healing and renewal. Sahba Aminikia's Sound, Only Sound Remains explores the forbidden sound of women singing in public in modern-day Iran, their recorded voices interwoven with Kronos' sound. And Donnacha Dennehy's One Hundred Goodbyes remembers some of the forgotten sean nós songs and Gaelic speech of his homeland. Innovative arrangements for Kronos of traditional folk and popular music from Sweden, India, Mexico, Argentina, and other places complement the new compositions on the programs.
True to the spirit of an inventive 21st-Century global music festival, recordings and recording devices also play a role in telling these stories, as composers draw from field recordings, archival media, and crowd-sourced audio to commune with voices spread across generations and continents. Albert Behar's new work, Lost Wax, pays homage to Bartók's wax cylinder field recordings of the early 20th Century, and Nicole Lizée pays tribute to a pioneer of radio sound design with The Golden Age of the Radiophonic Workshop [Fibre-Optic Flowers]. For his work, Sahba Aminikia asked women in Iran, through social media, to send him recordings of themselves singing into their cell phones. Donnacha Dennehy's composition is inspired by archival field recordings, made nearly 100 years ago, of rural Irish people singing a cappella songs passed down for generations.
Kronos Festival 2016: Explorer Series also marks the Bay Area debut of KPAA's new education program, Fifty for the Future: The Kronos Learning Repertoire. Beginning in the 2015/16 season, Kronos' Fifty for the Future will commission 50 new works—10 per year for five years, by 25 women and 25 men—devoted to contemporary approaches to the quartet, and designed expressly for the training of students and emerging professionals. The first ten composers were announced early in 2015, and the festival will feature three of these new works, by Franghiz Ali-Zadeh (world premiere), Fodé Lassana Diabaté, and Wu Man, all performed in the Bay Area for the first time.
Festival artist-in-residence Wu Man has collaborated with Kronos Quartet since 1992, most recently on the acclaimed works A Chinese Home (2009) and The Cusp of Magic (2004). Due to a wrist injury, Wu Man will not perform in this year's festival. She will make a full recovery very soon, and we are pleased to announce that she will be with us throughout the festival as our guest of honor. Four Chinese Paintings, Wu Man's own new work written for Kronos' Fifty for the Future project, also has its Bay Area premiere on the festival's opening night.
Main image credit: Sam Reveles, Mandala Painting for Juarez No. 2, (detail) 2010, oil and acrylic on canvas.
Private Collection, Dallas. Courtesy of Talley Dunn Gallery.

THANK YOU TO OUR FUNDERS AND SPONSORS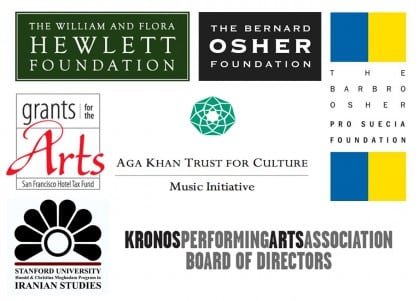 Kronos Festival 2016: Explorer Series is made possible by generous support from Grants for the Arts/San Francisco Hotel Tax Fund, The William and Flora Hewlett Foundation and The Bernard Osher Foundation, with additional support provided by the Barbro Osher Pro Suecia Foundation, the Aga Khan Music Initiative, the Hamid and Christina Moghadam Program in Iranian Studies at Stanford University, and the Board of Directors of the Kronos Performing Arts Association. Additional funding is provided by the Finnish Music Foundation (MES).